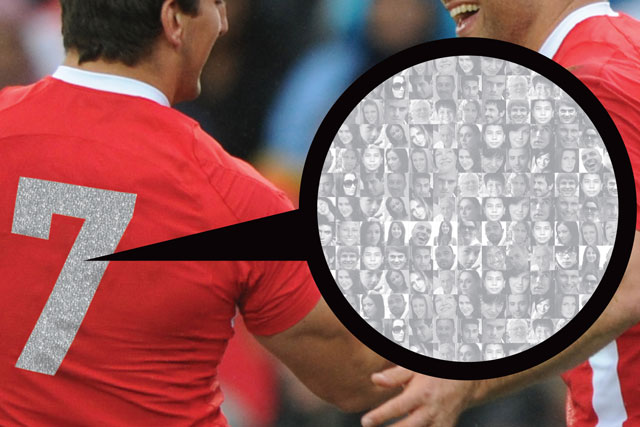 Next time you visit a packed football or rugby ground, take a look around and see if you can spot the fan eating a hot pasty, programme in hand, while listening to the PA system for the half-time scores from other games.
He probably is there, but he could be hard to spot, as he is part of a diminishing demographic. The nation's best-loved sports are now so suffused with marketing technology that the live match has been transformed into something more akin to a marketing-cum-social-media interactive event.
Fans can use their smartphones to order food, watch goals (see box, below right) and, now, even to get their faces printed on the shirt numbers of their sporting heroes.
The latest fan photo initiative, called Playing2, was announced last weekend by the Welsh Rugby Union (WRU).
It will roll out during the 6 Nations tournament next year, and offers fans the chance to have their photo printed as one of many that will make up the shirt numbers of Welsh players during the competition.
Price of inclusion
Paying £20 to have a tiny photo of yourself placed on the back of your favourite player's shirt may seem a waste of money to some, but Neil Latimer, retail and licence manager at the WRU, is confident it will take off.
'Fans today want to be included more, and for them, this is a coup. It is not a lot of money, which means this could work well in most sports, perhaps particularly in football as players have the same shirt number for every match,' he says.
The attraction when it comes to megastar players is even more obvious, says Latimer, with the prospect of a Manchester United fan having his face on Wayne Rooney's number 10 shirt, for example, likely to be a major draw.
Wales' home 6 Nations matches tend to attract crowds of more than 70,000 fans to the Millennium Stadium, and Latimer argues that a significant number of these will sign up to Playing2.
Aside from this latest activity, marketing is now part of the fabric of the match-day experience. At the Millennium Stadium, for instance, there are 450 TV screens that show game footage, directional signage and brand advertising.
Dove, Investec and Fiat are among the brands running ads during matches. They are attracted because a significant proportion of fans at big games fall into a high-spending demographic, says Latimer.
However, rugby is in some respects playing catch-up to football. Vange Kourentis, commercial director at Sports Revolution, which is pioneering the use of technology in this area, says his company has been focusing its research on football fans.
'These fans "over-index" on high-end mobile phones, but they want technology that adds value to their experience,' he explains.
Sports Revolution is at the forefront of a technology tested by the FA that allows brands to show country-specific ads on football ground hoardings at Premier League games, specifically for TV viewers. QR codes and augmented reality are also being used in the stands. Last season, the company was behind an app to promote Budweiser, which meant that fans voting on the man-of-the-match in FA Cup games had their Facebook profile pictures shown on big screens at the ground.
Even amidst all this technology, however, the half-time pie still has its place. Sports Revolution has also been testing QR codes on the back of seats that allow spectators to order food.
While bandwidth restrictions are still impeding the mass use of mobile at some stadiums, clubs are eager to bring digital marketing to the terraces.
Sebastian Bell, senior account manager in Hill & Knowlton Strategies' sports marketing and sponsorship department, whose clients include Adidas, says more clubs are looking to maximise their brand exposure through social media.
'At the start of Spain's La Liga season, Valencia, which didn't have a sponsor at the time, put the club's Twitter address on the front of its shirts,' he explains. 'These ideas, including Playing2, are a great way to engage fans in any sport.'
Sports fans are already a highly involved audience, but immersive marketing is bringing them even closer to the game, or at least to the shirts on their heroes' backs.
CASE STUDY - TOTTENHAM HOTSPUR
In September this year, Tottenham Hotspur trialled technology called Aurasma, which allows fans to watch video footage of their favourite goals by pointing their mobile at the club emblem.
Emma Taylor, head of marketing at Tottenham Hotspur, believes the technology has vast potential, and is currently looking at ways to expand its use.
'It offers a far better experience to engage with fans,' she adds. Consumers who want to use the technology must download the free app. It will work when the smartphone is pointed at anything that bears the club crest - be it the kit that fans or players on the pitch are wearing, or the match programme.