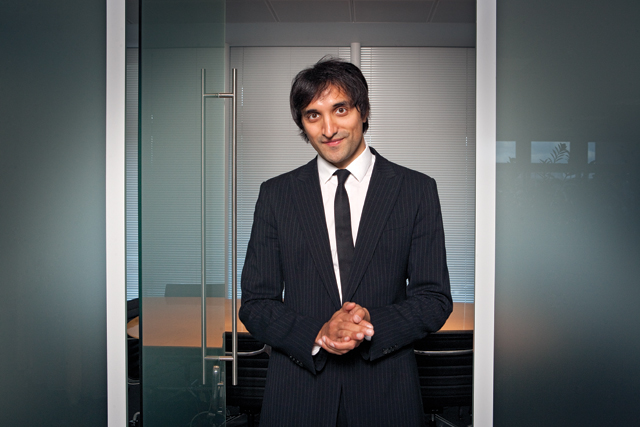 AKQA's office stinks. It stinks of entrepreneurialism and it stinks of dedication. It makes you feel like a useless human being. Paper pinned to the walls of project rooms bear complex coding and names of clients: Nike, Xbox, Fiat. Two men scrutinise an image on an iPad - they are trying to recreate a diamond in perfect, light-refractive detail. It feels like walking into a beehive, but the bees are people who have genius mathematical minds like Matt Damon's character in Good Will Hunting.
It is this level of focus that AKQA's founder, Ajaz Khowaj Quoram Ahmed, says has led to the biggest misconception about the agency: that it is a "sweat shop". Ask three people in advertising what they know about AKQA and they will all say the agency drives creative excellence through the medium of technology, but at least one will say: "It's also a sweat shop." James Hilton, the agency's chief creative officer who has been there since the beginning, says the criticism probably came from someone who worked with the boys in the early days (they were 21 when they started) and didn't appreciate the all-nighters. "There's no question that we have to work hard at what we do," Ahmed says. "But we focus our energy. And when people leave and go and work for another agency, they tell us what a sweat shop is really like."
Ahmed is one of those rare agency chairmen that remains as enthusiastic and hands-on as the day the company was founded - but, then again, he's only 38. "We make sure that we're always striving for excellence," he notes. "It's the same with Sir Alex Ferguson and Manchester United. How do you win a football match? You do a hundred things better than anyone else - and it's my job to make sure we do that." Ahmed may fancy himself as a Sir Alex figure, but his staff think otherwise. "Ajaz is like Steve Jobs," Ben Jones, the European director of technology, says.
Everyone agrees that AKQA is one of the most successful independent agencies in the world. This reputation has led to the marketing monoliths sniffing around the network, and we all remember the headlines about Dentsu toing and froing on an offer last year. What happened with that? "I just can't talk about it," Ahmed replies. "But my feeling is that these people who are interested in our company actually want us to take them over. They want us to come along and put our DNA into their company and transform it into something that has the magic, momentum and excitement of AKQA. They want to make it look like they own us, but really they want us to own them."
There's a sense that clients who arrive through AKQA's doors never leave. Nike, Xbox, Orange and Unilever have all been around for more than a decade, while Virgin was a founding client. Ahmed secured the Virgin business after the company saw a website he had coded overnight, where users could upload their CVs on to a job site. The web itself was in its infancy and Virgin was impressed that a site could do more than just display information. This tale of how Ahmed built his business - by being strides ahead of the game - is still relevant to how AKQA works today.
The agency's work speaks for itself. Everything AKQA does for Nike is as sticky as a Chelsea bun: the "write the future" social media campaign that picked up two golds at Cannes this year and the popular Training Club app that has dominated the iTunes store, for starters. For other clients, the Cyber Grand Prix-winning Fiat eco:Drive device springs to mind; or the Volkswagen real racing GTI app that was so powerful the client didn't use any other advertising to launch the new car; or the Nigella Lawson recipe app that uses voice recognition so you don't risk smearing goose fat on your iPhone when you're rustling up the Christmas dinner.
This year, another client stole the limelight. AKQA created Heineken Star Player, an award-reaping app that allows fans to interact in real time with the Uefa Champions League action. AKQA had to overcome apparently insurmountable technical difficulties to make it possible for users to play in real time, because TV broadcasters around the world delay live footage by as much as ten seconds. "It's another world first," Ahmed says. "We have this mantra: 'It's good to be first. It's better to be good. It's best to be both.'" Ahmed doesn't view AKQA as a digital agency; it is "an ideas and innovation company". For him, creativity, innovation and design are as core to AKQA's lifeblood as the technology, despite the latter being the agency's largest organ. The magic formula of AKQA, then, is that it is led by creativity and its tech executions are shit-hot.
Of course, technology is the skeleton for everything that AKQA does but, as Ahmed says, it shouldn't be the focus. "There are a lot of digital agencies that only got recognition because they knew how to use Flash; they were like Flash value-added resellers," he says. "That doesn't make sense because then you are focused on the technology, rather than the idea."
Advertising these days, Ahmed claims, doesn't "contribute" to people's lives: "Most advertising is identikit, predictable, a variation on a theme, not breakthrough, not innovative, not interesting. There's a whole generation of consumers that are looking for brands to make a contribution, rather than produce jingles and straplines." So what is AKQA contributing to the world next? Ahmed smiles: "What's that phrase? Ships shouldn't leak from the top?"
AKQA: FIVE OF THE BEST
Nike 'the chance': Social media campaign seen by millions that gave young talented footballers around the world the chance to audition in front of Arsene Wenger. It changed the lives of eight unknown footballers, who now have professional contracts.
Nike Training Club: Named "app of the week" by Apple on both sides of the Atlantic, the Nike Training Club app has reached the top of the App Store in 21 countries. To date, 40 million minutes of training have been sweated out through the tool.
Delta Airlines app: Hailed as the best airline app for convenience and speed (it remembers details that other airline apps ask you to repeat each time), this app for Delta has had two million downloads so far.
Fiat eco: Drive AKQA designed in-car software to reduce C02 emissions by encouraging users to drive in the most economic way. As well as helping to save the planet, it also saves the driver money: an estimated £400 per driver per year.
AKQA microwaves Christmas card: AKQA created a Christmas greeting by filming 49 microwave ovens that played out the tune of Jingle Bells through their beeps. Kanye West liked it so much he posted a link to the video on Christmas Day.