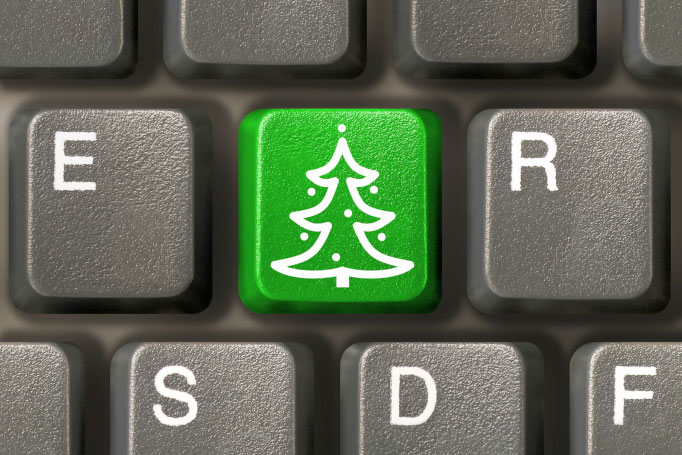 This Christmas may be the most challenging yet for the UK's retailers, with consumer attention split into megabits not just by rivals, but tempting distractions like Netflix, YouTube, smartphones and Facebook.
That means marketers must get their festive campaigns and the customer journey pitch perfect during the most important shopping season of the year - it is no good winning consumer attention with a beautifully shot ad, only to throw it away with a poor online experience.
To that end, some of the UK's biggest brands are experimenting more ambitiously with technology to stay ahead and keep consumers tuned in.
Google Cardboard brings TV ads to life
As per last year, John Lewis has extended the storyline of its Christmas star, Monty the penguin, to digital. Children can download a Monty storybook app on iOS or Android, and create their own Monty card. That's much the same as last year, where children could download an app featuring John Lewis' bear and the hare.
The retailer has gone one step further this year however, creating bold, in-store experiences using Google Cardboard, a cheaper take on the Oculus Rift virtual reality headset.
Visitors who put their smartphones into the headset can experience a 360-degree video adventure featuring Monty and his human friend Sam.
Brands are seeing value from hackathons
David McNamara, head of digital strategy for Iris, also pointed to Argos as a brand that has managed to sew technology into its core offering. The retailer has released two apps over Christmas as part of its wider digital transformation, one of which emerged from its summer hackathon.
The latter is a wishlist app targeted at children, which features animated characters guiding children through different toy options, without displaying messy features such as price or availability. Parents can programme the app to show toys within a certain price bracket.
The second app borrows Tinder's 'swipe to like' interface to personalise gift options for shoppers.
McNamara told Marketing: "This is a brand that doesn't see innovation through tech as just playing – it's a critical part of their business strategy and Argos is transforming for the 21st century consumer.
"Argos recognises it has a sweet spot to pursue between their 750 stores and a compelling online experience where you can discover Argos products and buy at your convenience. It's an interesting crossover between physical retail and an online experience that really works."
He added: "Argos' hack day - we do that with our clients and it's quite difficult to gain the momentum of outputs from those days unless there's a C-suite buy-in."
Brands are stlll in siloes
Not every brand has managed to upgrade the way they bring technology into their marketing. McNamara said while many brands were on the path to understanding the importance of a seamless customer journey, most still took a fragmented approach even in 2014.
He said: "Some are getting there, but it is still a long haul to an experience where customers cannot distinguish the different touch points.
"Many brands struggle with the siloed approach, and the user experience at the other end is poor. It's about having a really simple filter test for brands to determine their innovation agenda in this context."
According to McNamara, brands should consider whether an innovation is relevant, useful, will help the wider campaign and "if it's none of these things, then go home."
Even poster boy Argos can't always get it right over the busy shopping season. When Marketing spoke to McNamara it was Black Friday, the American, post-Thanksgiving shopping day that has seeped into UK retail culture, and Argos' website was down.
That, says McNamara, is indicative of how brands need to make sure they get their back-end technology right, and buy-in across their organisation.
He said: "It's representative of a wider challenge. There's the front-end, consumer layer of technology that is interesting, clever and engaging – but also there's still plumbing that needs to happen at an organisational level to make sure stuff works on a day you know will be big."
The brands turning to digital over Christmas
John Lewis - Monty's Goggles
John Lewis went one step further for 2014's Christmas campaign, extending the storyline of Monty the penguin beyond the TV ad not just to an app, but to virtual reality.
The retailer has placed Google Cardboard headsets - budget versions of the Oculus Rift - across 42 stores, allowing wearers to experience an adventure with Monty in 360-degree video.
Argos - wishlist apps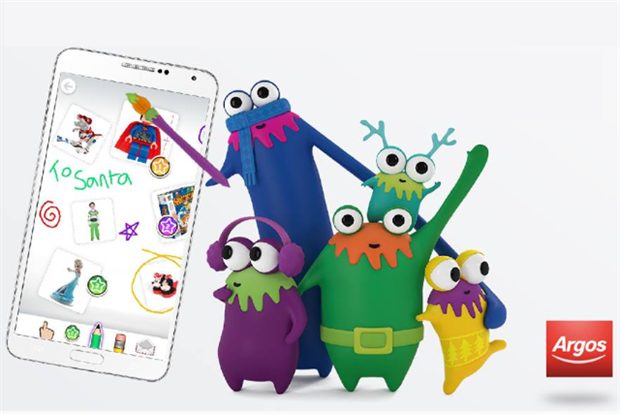 Argos developed two apps designed to make the Christmas shopping experience more personal, and to bring its iconic catalogue into the 21st Century.
The first is a wishlist app targeted at children, which recreates the experience of writing a letter to Santa. The "my Christmas wishlist" app offers animated characters that guide children through a range of toys. Children can pick toys according to parameters set by their parents, such as number of presents or price.
The second is a Tinder-style app targeted at shoppers looking for gifts for friends or family. The Argos Christmas Gift Finder web app shows gift options according to whether the recipient is male or female. The shopper can swipe left or right to indicate whether they like a gift, personalising the recommendation service and improving the choice of gifts.
Tesco Clubcard - Secret Scan-ta Twitter app
Tesco's Secret Scan-ta app is an innovative gifting service that scans a person's Twitter feed to determine what they might be interested in. That information is used to suggest gifts to shoppers, and links to the Tesco Clubcard site where they can complete the purchase. If they are a Clubcard holder, shoppers can also receive discounts.
Waitrose - #bakeitforward on Twitter
Waitrose launched the #bakeitforward campaign to tap into the UK's enthusiastic baking community. The idea riffs off the 'pay it forward' concept, with customers encouraged to bake an item for a friend, then to nominate them to do the same for someone else, creating a chain of goodwill. Shoppers are already posting their baked goodies on Twitter, with Waitrose offering prizes to participants.
Sainsbury's - Dare to Share on Facebook
Sainsbury's has launched a mystery gift app on Facebook, which allows users to send a free gift to a friend. That could be an e-book voucher, or it could be an iPad Mini. Users must accept the app, pick a friend, pick a gift at random then send it to their friend, who must "unwrap" the present to claim it.
O2 - gift hacker app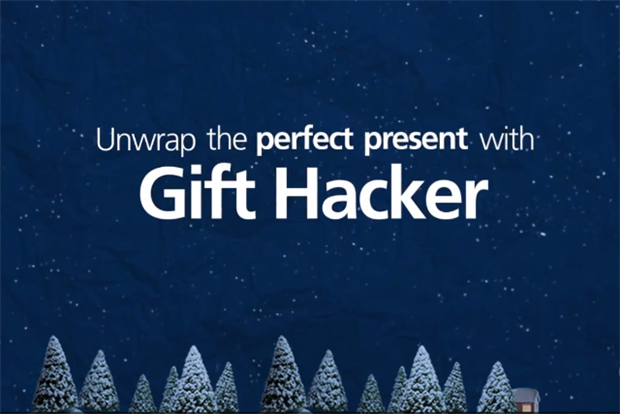 O2's web app is a kind of Kickstarter for present-buying, letting customers choose a pricey electronics purchase, then ask multiple friends to contribute to the total.
The idea is for one customer to organise the campaign, choosing a gift and a reason why the recipient deserves the present. They must then persuade other friends to chip in before the 10-day deadline. If the target is met, the gift is delivered before Christmas. If not, no one pays up.
Read next