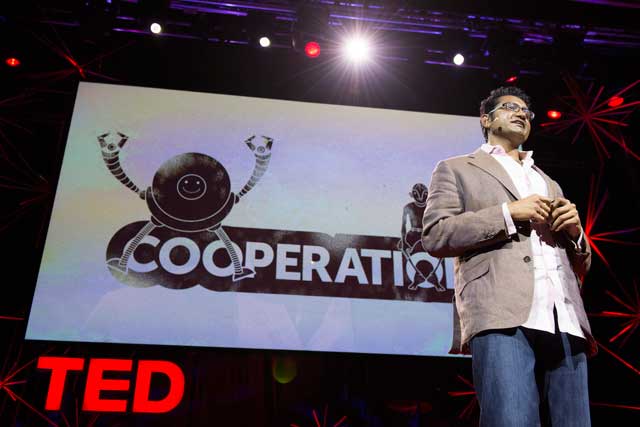 Attending a TED conference is not the same as watching a TED film online. As planners, we are now used to TED's 15-minute online films of "ideas worth spreading". We use them as inspiration for strategies and to add colour to client presentations. But being there is something quite different.
TED Global is TED's non-US set piece, held for the past two years in Edinburgh. Each year, it has a theme - 2011 was the impossibly broad The Stuff Of Life, 2012 was the more intriguing and successful idea of Radical Openness. A series of short talks, all based on various expressions of the power (and, occasionally, the dark side) of collaboration, sharing and transparency.
As planners, we often fancy that we have a broad set of references and can master a whole range of diverse topics in any given week. But compared with a TED conference, we are ludicrously narrow-minded. And this is the difference between attending and watching online after the event. The sheer head-spinning breadth of topics covered and the repetitive intensity with which these 15-minute talks assail you with their ideas.
It feels a bit like this:
We live in an age of networked intelligence. Twenty-million Chinese lost their jobs in 2008. This is a world of ubiquitous everyday wonders and need to rediscover the power of awe. Close your eyes and go to that dark, infinite space inside. The mind is not a vessel that needs filling, but wood that needs igniting. Mistakes are the portals of discovery. Play is evolution's answer to uncertainty. The pace of change in organisations' environment has overtaken organisations' speed of learning. Fear is a creative act of the imagination. What went right in the past 50 years is what went wrong - the 60s social revolution destroyed collective purpose, the 80s market revolution destroyed equality, the 00s internet revolution destroyed debate. Transparency is not a way to build trust, it's a way to manage distrust. Activism with a transgressive twist, ultra co-ordinated motherfuckery. Chinese factory workers consume education, not iPhones. You don't know who you are until you interact with others. I was institutionalised for 15 years. The perception of threat that once kept us safe now drives us insane. The important thing is what people remember, not what they see. Adolescents' brains are physically less able to appreciate others' perspectives. What you do with your body can change your mind - expansive gestures generate confidence. People buy your presence, not your words. We should use the victims of terrorism to challenge the terrorist underdog narrative. What if society needs crises to change? The top-five regrets of the dying are working too much; losing contact with friends; not devoting enough time to being happy; not having the courage to express their true selves; living according to others' expectations, not their true desires. And then I had my accident. Transparency is the lever by which openness becomes change. Development ideas now flow more between developing countries than from the developed world to the developing world. Government is in a crisis of legitimacy. A successful city has a messy vitality that embraces change. Technology makes possibility, design makes solutions, art makes questions, leadership makes action. We should design processes, not forms. Femto photography allows us to capture the movement of photons at near the speed of light. Quantum locking of semi-conductors enables levitation. The language you speak determines how much money you save. Arrogance kills curiosity. Our personal medical data should be shared. Everything creative is a remix - copy, transform, combine. There are 300 million micro-bloggers in China. The internet is not a metaphoric cloud, but a physical reality of undersea cables that emerge in the port cities of old. Conflict = thinking. Most organisations are too afraid of conflict ever to be truly creative.
And breathe.
The strange thing you learn is that after a couple of days, your brain's ability to cope with this volume and quality of content improves dramatically. You start seeing connections between diverse fields and new ideas occur. It's tiring, for sure, but in an exhilarating way.
Radical openness reminds us that most of our knowledge is too specific, too tightly related to the problem at hand to get anywhere new. We need to open our processes, open our organisations, but, most importantly, open our minds.
Bridget Angear and Craig Mawdsley are the joint heads of planning at Abbott Mead Vickers BBDO.
WHAT TED TEACHES US
- Bring your whole self to work All the best presentations linked a personal story to a broader idea to compelling effect.
- Publish, don't patent The best stuff happens when we share ideas, rather than worry about who gets the credit.
- Evidence beats opinion Get out there and do some interesting research.
- Don't be afraid not to know Nobody knows - that's the point. Our job is to ask better questions.