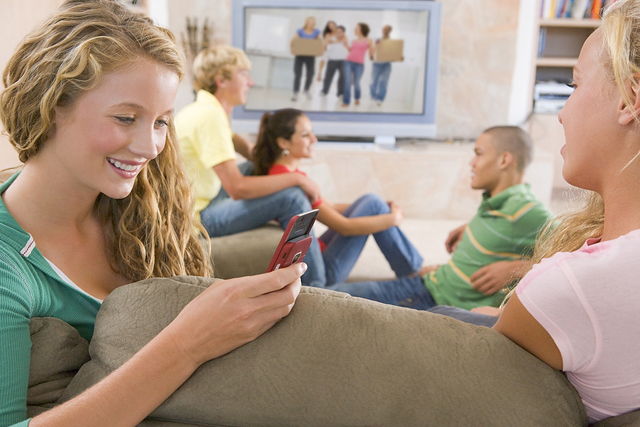 The research found teens don't always think of Twitter as a social networking site.
That raises the question as to what is Twitter? There has been a lot of discussion about this recently with a number of people increasingly describing Twitter as a news wire or as the sixth American news network.
This is echoed by the Pew study. It picked up on a small segment of teens who think of Twitter differently and class it apart from social networking sites.
Twitter and Facebook are always grouped together, but one of the reasons they both thrive is that they are fundamentally very different. However, despite their differences Facebook and Twitter are often grouped together as "social media sites" or "social networking sites".
When Pew asked a standalone question about Twitter use it found there is consistently a group of users who say they "are not users of social networking sites", but they do use Twitter.
Looking more closely at the 24% of online teens who use Twitter, 3% say they do not use a social networking site like Facebook.
That view is likely to grow as the number of teens coming onto Twitter increases by sheer number and coming of age.
Pew found that use of Twitter by teens has grown significantly. One in four (24%) online teens uses Twitter, up from 16% 2011 and 8% the first time we asked this question in late 2009.
Teenagers' use of Twitter now outpaces that of adults. Just 16% of online adults are Twitter users, up slightly from the 12% who were using Twitter in 2011.
They are driven there for different reasons to many older Twitter users, but we all share common behaviour in that we want to connect or more precisely to tap into, stream and pick up on the voices that we are interested in, and sometimes share our own.
However, while Eight in ten online teens use some kind of social media. Twitter is still not in the same league as Facebook, which attracts 77% of online teens.
The number of teens who say they "use a social networking site like Facebook" is still significantly higher than it is among adults. 81% of online teens say they use social networking sites such as Facebook, while 67% of all online adults use these sites. However, the gap is now only due to adults aged 50 and older. Online adults under the age of 50 are now just as likely as teens to use the sites (79% vs 81%).
Facebook is the platform of choice for teens
More than 81% say Facebook is the profile they use most often with 7% saying that Twitter is the profile they use most often.
By comparison, only 7% of teen social media users say they maintain a MySpace account. None of the survey respondents said MySpace was the account they used most often. That is in stark contrast to the 85% of teens who said in 2006 that MySpace was their most frequently used profile.