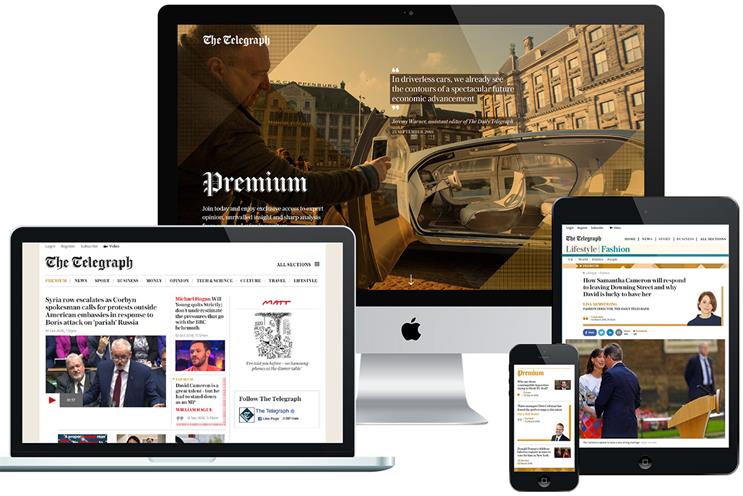 Telegraph Premium content will be mainly columns, exclusive interviews and in-depth features and analysis – equivalent to about 15% to 20% of the publisher's online output.
The premium articles will not be available on third-party platforms such as Facebook's Instant Articles unless readers are able to pay – a significant move as the publisher seeks to balance its desire to maximise audiences with its need to drive subscription revenue.
Robert Bridge, the chief customer officer of Telegraph Media Group, wants to triple the number of paying digital subscribers by the end of 2017 and is launching a marketing campaign with the message: "See beneath the surface."
He said: "The content that will live in premium is that comment and analysis that will help people form their opinions and progress with their lives."
The launch of Telegraph Premium is the biggest change that Telegraph Media Group has made to its online business model since early 2013 when it launched the metered paywall that let users see up eight articles a week for free.
The switch in strategy will be closely watched by other news publishers, which have seen digital advertising revenues squeezed by Facebook and Google.
Telegraph Premium is arguably the most significant online move in UK newspapers since The Sun dropped its paywall a year ago because of lack of scale.
Bridge said TMG was not just looking to boost subscription revenues and it also sees the new strategy as a way to increase income from advertising, commerce and events by engaging readers.
Turnover last year was nearly £320m at TMG which made £51m operating profit despite tough trading conditions.
"This is a digital strategy, not a digital subscription strategy," Bridge said. "We want to drive revenues in all parts of the business."
Readers will be encouraged to register their personal details with the Telegraph website or app, even if they don't pay for content.
Only registered users will be able to comment on articles and they will get access to one free Telegraph Premium article a week.
"We want to drive more of a 'logged in' experience," Bridges said, explaining how more data on readers will improve the editorial content, the advertising and cross-device targeting.
Paying subscribers will be offered a string of incentives, including an Amazon Echo Dot worth nearly £50, two months' free use of Google Play Music and a year's online access to the Washington Post.
Robert Ffitch, director of advertising revenues at TMG, said: "Part of the commercial strategy is to build really strong, deep, meaningful relationships with our customers so they feel engaged and loyal.
"From an advertising point of view, we can understand our audience better, be a lot more attractive to advertisers, and sell more effectively."
Ffitch, who joined from Manning Gottlieb OMD in January, said putting some premium content behind a paywall but keeping other news free will ensure the Telegraph brand maintained its global online reach of 89 million unique browsers a month for advertisers.
He said, for example, that the Telegraph's recent undercover investigation into Sam Allardyce that forced the England football manager to resign would have been free. However, some of the subsequent comment and analysis would have featured in Telegraph Premium.
Bridge said TMG has developed software and analytics to decide whether stories will be free to read or will sit behind the Telegraph Premium paywall. Editors will also have freedom to choose on a case-by-case basis.
"The 15% to 20% of the content that will be premium is up to us to flex and learn," he said.
TMG has declined to say how many subscribers have paid for its metered service and the switch to a "hard" paywall for premium content appears to be an acknowledgement that the previous model has not got much traction.
Bridge, who joined at the start of this year from Yahoo, said he was "surprised by how healthy the number is" for digital subscriptions but he admitted the metered model had problems.
"One of the flaws of the meter was they [users] could delete cookies or private browsing [to get around it]," he said.
By contrast, the concept of Telegraph Premium has been "really well received" during research, Bridge said. "It was easy to understand, rather than an arbitrary paywall that applied no value to that content [by charging readers after they had read any eight articles for free]."
There will be "no way to circumnavigate" the Telegraph Premium paywall for anyone who has not paid or registered, he promised.
Asked whether his ambition to triple the Telegraph's digital subscribers by the end of 2017 would mean it overtakes The Times which has 156,000, Bridge said: "I'm not going to answer that question. We're confident in this model and that it will give us competitive advantage."
The £2-a-week charge for Telegraph Premium will apply across its website and apps, which include an "edition" version that replicates the print newspaper and a "live" version with up-to-the-minute news. Digital "editions" cost from £6 a week and a combined digital and print subscription package from £10.
Bridge will also consider more variable pricing such as a per day basis.
The view from the Telegraph newsroom is that the print and online products should "cohere", rather than have different editorial approaches as, say, the Daily Mail has adopted.
The Daily Telegraph editor Chris Evans said: "We will continue to offer a huge range of open, quality content but Telegraph Premium allows us to place a value on some of our most unique, in-depth and insightful journalism, offering compelling analysis from the most authoritative writers."
Bridge said Le Monde in France, Bild in Germany and Toronto's Globe and Mail have all adopted a similar model with what he calls "an open layer" of news and "a premium layer" of comment and analysis, but he maintained no other UK news publisher has tried it.
The Times and FT operate hard paywalls with little or no free content. The Guardian, MailOnline and The Sun are free sites. The Telegraph's metered model was most similar to that of the New York Times.
TMG's decision to pull its premium content from third-party sites comes two months after the publisher warned in its annual accounts that it faced "intense competition" from tech platforms.
Bridge rejected the suggestion that TMG was "withdrawing" from Facebook and other third-party sites, pointing out its free news content will still appear there. "We are embracing the opportunity for third-party platforms with our 'open layer'," he said.
"It doesn't mean that premium content couldn't exist on third-party sites that are paid for. We know for sure that Apple News has a premium layer. Where a premium environment exists [on a third party site], we'll explore this."
TMG is working with Adam & Eve/DDB and Dentsu Aegis on the "See beneath the surface" campaign to encourage readers to subscribe to Telegraph Premium.
The publisher has made a string of external hires, including Bridge, Ffitch and chief information officer Chris Taylor from News UK, in an effort to move from being a "heavily print-focused" business to a more digitally-savvy operation.