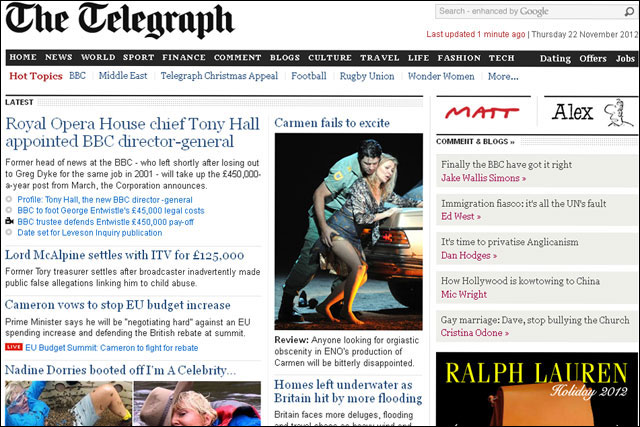 Telegraph.co.uk reported the biggest leap in monthly users, up 10.72%, on September, to report 56,919,647 monthly users in October.
However, the website still lags behind the market-leading MailOnline and second-placed Guardian.co.uk, the latter having a stronger October than the Mail website.
Guardian.co.uk recorded 71,766,288 monthly users in October, up 9.84% on the previous month.
MailOnline, which today announced plans to expand its MailOnline US operations, reported 106,095,618 monthly users, meaning it is still the clear market leader.
David Pempsel, the new chief commercial officer of Guardian News & Media, said the performance of Guardian.co.uk revealed that its "open strategy" was working and was attracting the Guardian's much-sought-after "progressive audiences."
Across the rest of the market, Independent. Co.uk – while still a relative minnow – enjoyed a solid month with its monthly user figure up 9.78% to 17.9 million in October.
Its sister title, the London Evening Standard was up 3.84% to 3,167,428m monthly users in the month.
Zach Leonard, managing director for digital at The Independent and Evening Standard, said: "October's monthly figures demonstrate robust digital growth, both web and mobile, for The Independent and London Evening Standard.
"Our commitment to digital expansion and innovation ensures that more of our readers can access the best of our quality content, wherever they are, across every platform and via a host of entry points. It's fantastic to see the figures reflecting this."
However, it was not all positive reading in October for newspaper websites.
The website for the free morning title Metro suffered a 6.62% falls to 6,971,225 monthly users, while the Sun website was down 2.07% to 1,544,721 monthly browsers.
ABC multi-platform report: October 2012
Certified figure Oct 2012
Monthly change (%)
Daily avg
Monthly total
Daily
Total mth
MailOnline
6,671,641
106,095,618
4.79
4.48
Metro
276,478
6,971,225
-11.11
-6.62
Standard.co.uk
144,461
3,167,428
4.23
3.84
Guardian.co.uk
3,909,514
71,766,288
7.60
9.84
The Independent
825,861
17,900,904
8.14
9.78
Mirror Group Digital
764,277
16,319,000
3.53
3.67
The Sun
1,544,721
25,926,115
-1.25
-2.07
Telegraph
2,887,948
56,919,647
7.76
10.72