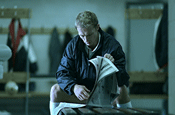 The company has put out a request for information to several undisclosed above- and below-the-line agencies. The process is being handled by the AAR.

The agencies have been offered the option of pairing-up with above- or below-the-line partners or pitching for the entire integrated business.

The incumbent on the above-the-line business, CHI & Partners, resigned the account in October to work on the £15 million Times Media business, which News International moved from Rainey Kelly Campbell Roalfe/Y&R without a pitch.

It is understood that Hall Moore CHI, which handled below-the-line business, will not repitch for the account.