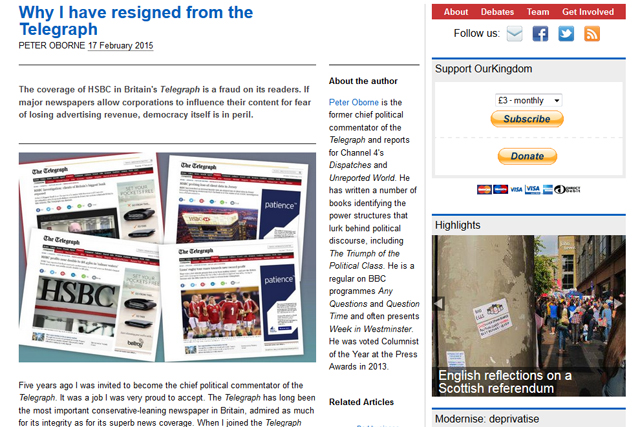 Oborne's resignation from his role as the chief political commentator at The Telegraph after five years became public yesterday.
In a blog on Open Democracy he accused the Barclay Brothers, owners of the paper, of not fully reporting on the HSBC scandal because it may lose out on advertising spend.
He wrote: "The coverage of HSBC in Britain's Telegraph is a fraud on its readers. If major newspapers allow corporations to influence their content for fear of losing advertising revenue, democracy itself is in peril."
HSBC has been criticised widely over the last week following a BBC Panorama film that alleged its Swiss banking arm helped many of its wealthy clients avoid tax.
A spokeswoman for The Telegraph said: "Like any other business, we never comment on individual commercial relationships, but our policy is absolutely clear.
"We aim to provide all our commercial partners with a range of advertising solutions, but the distinction between advertising and our award-winning editorial operation has always been fundamental to our business. We utterly refute any allegation to the contrary.
"It is a matter of huge regret that Peter Oborne, for nearly five years a contributor to The Telegraph, should have launched such an astonishing and unfounded attack, full of inaccuracy and innuendo, on his own paper."