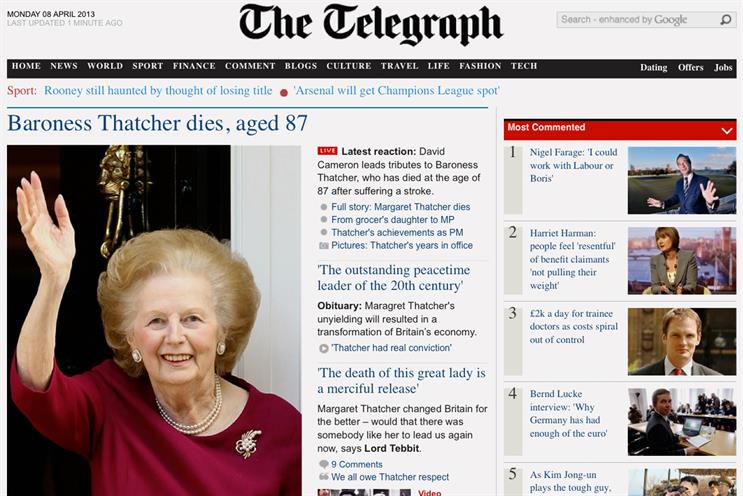 The new approach to its tablet app follows the publisher placing all of its content behind a metered paywall last month.

Speaking to Media Week at Newswork's Shift 2013 conference yesterday, Tony Gallagher, editor of the Daily Telegraph, said the publisher was "actively at work" on the app, which ties in with its new metered model.

"It's expensive to produce [content] and we have to find a way of ensuring that the reader is paying for everything," he said. "And if they're paying for the tablet, there's no logic to them getting the website free – especially as they converge.

"The next iteration of the tablet will have the Telegraph and Live [website] on it, how is that going to work if you are giving it away for free?"
The Telegraph app will be available as part of the publisher's new Digital Pack, which includes web access, mobile apps and daily tablet editions for iPad and Windows, for £9.99 per month.

TMG launched its first paid-for iPad app for its Daily and Sunday Telegraph titles in May 2011.
The dual concept behind the Telegraph's app taps into the latest trends in tablet usage, with growing evidence that readers want both the lean-back and lean-forward aspects of the app experience.

Earlier this month, The Financial Times launched a new version of its web app which introduced dual static and dynamic content functionality as well as a rebuilt personalisation hub called My FT.

It follows the likes of New York magazine in the US redesigning its app to create a more web-like experience after research found 65% of readers wanted daily content as well as the magazine content on the tablets.
Telegraph's meter likely to become less generous
Gallagher also believes the Telegraph's current metered approach, which allows users to access 20 stories each month for free, is likely to be reduced in months to come, as the publisher looks to encourage more digital subscriptions.
Despite the initial move being widely welcomed by press specialists, the editor said further changes to the meter were likely.

"We can't be giving this stuff away for free, and although it's set at 20 stories, it's a moveable feast," he said. "I'd be very surprised if it remains at that number in due cause.

"The New York Times brought their meter down without noticeable impact on their traffic or their advertising and I suspect, in due course, we'll wind up doing the same thing."
TMG's website Telegraph.co.uk attracted more than 3.1 million average daily unique browsers in its last official audit.
No such thing as a free lunch anymore
Speaking at the conference earlier, Gallagher had told 300 press executives that "innovation is a condition for our survival, and the survival of newspapers is completely dependent on our ability to evolve".

Expanding on his theme to Media Week, he said that closer collaboration between commercial and editorial teams had been an important part of the journey.

The two teams work on the same floor, and he said "working together is second nature to us now". He did admit that the ongoing tough trading conditions and distruption around publishing had resulted in a notable change of attitude among the group's journalists.

"I think journalists generally have recognised that there's no such thing as a free lunch anymore. I detect in the newsroom now that people are quite happy about talking about working for a profitable company.

"And that's not a conversation you would have had with people four or five years ago. They would never have said, 'hey my company makes profit'. But they have [now] seen The Guardian haemorrhaging money, The Times, The Independent haemorrhaging money.
"And where does that money come from? It comes from having good, strong commercial partnerships.

"It's not something that one should be embarrassed about or cautious about. We co-exist, and we depend on them for success, and they depend on us for journalism."

Earlier, the Daily Telegraph editor had underlined the need for change in his presentation by citing Charles Darwin's observation: "It's not the strongest that will survive, nor necessarily the most intelligent, but the ones most responsive to change."