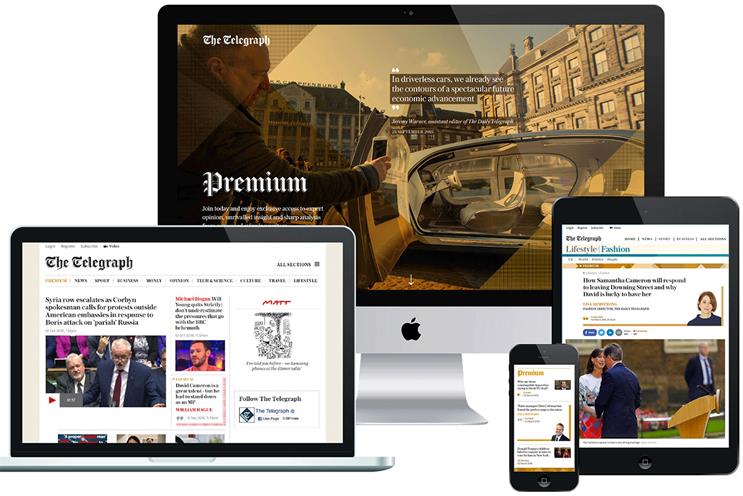 The Daily Telegraph is dropping its New York Times-style metered paywall with eight free articles a week for Telegraph Premium, a "hard" paywall for comment and analysis – an example of yet another newsbrand moving to a paid-for solution.
But we've also heard about the aforementioned New York Times, the Daily Mail, The Guardian and Wall Street Journal all announcing layoffs.
All four of these high-profile newsbrands operate distinctive and different models of accessibility to their content, so it's clear no single business has discovered the winning formula to bullet-proof against today's modern content landscape.
The Telegraph's move reflects the stark reality of the industry: content is generally being divided between a premium model where you can charge for it and protect it, and a free model where content can be mined and navigated through Facebook or Google.
As announcements go, it's fine and an attempt to walk the line between the paid for and free models – but it's not as bold or as visionary as it could have been.
The impact of Google and Facebook
The main factor to consider when reviewing the Telegraph's paywall announcement is the impact of Facebook and Google in how people consume the news.
Facebook recently stated that its third quarter profits for 2016 have tripled, and in 2017 it's been predicted that 74% of all digital adspend will be split between Google and Facebook. This is the world where the Telegraph's move to make news free makes sense.
When you consider the fact that publishers use these platforms for news distribution, it's logical that this is where the real growth – both in terms of traffic and revenue – is happening.
This isn't good news for publishers which eke out their profits in the margins between these players – but it is how their customers now are increasingly expecting to filter their news.
Bad news
However this new way of receiving news has its downsides. Aggressive online filters which link you to content that is either free but purely news-based or which is insightful and balanced but locked behind paywalls doesn't paint a picture of a world in which content is pluralistic and accessible.
It suggests a world where content is homogenous, basic, quick and snackable.
While this may reflect modern reality, it's not providing any real value: it's not challenging our opinions or the way in which we view the world.
This makes it even harder for audiences to escape from the filter bubble: quality journalism is disappearing behind a paywall, combined with algorithm filters that show you only what you want to read.
Good news
One of the most positive consequences of the Telegraph's announcement is the move towards more creative and curated experiences.
People don't just want to be defined by what an algorithm tells them to do or read. Additionally, what people want, and are increasingly looking for, are much more personalised, sophisticated, meaningful connections.
Over the next 12 months, as an industry, we'll be talking more comprehensively about curation. This more personalised approach to news will work well for a newsbrand like the Telegraph which is able to communicate with confidence that the news it curates is of a high-quality and specially aligned to its audiences' specific tastes.
It's a very positive step for the industry in a world where we're likely to see people consume less overall, but pay more attention to what they do consume.
This is certainly a trend we're seeing happening across the consumption of goods and if the same thing happens to the consumption of content, then the Telegraph is back in the game.
All those newsbrands that stick with their principles and continue to produce meaningful content are going to stand out.
My prediction is if newsbrands can follow the general consumption patterns of consumers and survive the increasing momentum towards curated content, then they will thrive in the long-term.
This is clearly what the Telegraph is aiming for in its move to make news content free – however its step to curation may perhaps have been a step before its audience was ready for it.
The next era of content
A good proxy for this future curation approach is Samsung's new news app which divides the world between news that you need to know and news that you want to know: News that you need to know is well thought-through and is curated by human editors.
News that you want to know is algorithmic and based on previous filtered searches. That to me is one of the most exciting ways to define modern content – it's based much more around people's behaviour: so in one respect it's about adapting to your behaviour and in another, it's about challenging your behaviour.
From a personal, consumer perspective, that's the kind of news content that gets me excited.
It's the kind of solution that's a win-win: I know I can have my content preferences delivered to me because – hey, in today's technological age, why shouldn't I? – but also at the same time I can be challenged in my beliefs and the way I view the world.
Something we don't nearly get asked enough to do anymore.
Tom Laranjo is managing director of Total Media.