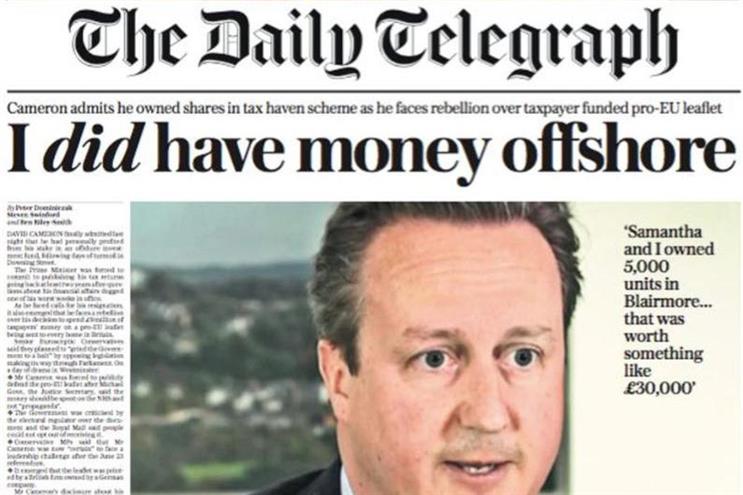 The owner of The Daily Telegraph's view of the trading environment in its newly published annual accounts was more bearish than a year ago.
TMG described how print publishers now have a "less certain" role because of "competition from the proliferation of free digital content and the increasing role of large-scale digital platforms in distributing and aggregating content", particularly on mobile.
The accounts went on: "Traditional print advertising revenue will also continue to be difficult to replicate online, with digital content publishers facing challenges from the increasing use of ad-blocking technology, pressure on digital advertising yields and the intense competition from large-scale digital platforms."
TMG, which employs Lorraine Twohill, Google's head of marketing, as a non-executive director, did not name Facebook or Google. The two tech giants have been taking upwards of 85% all digital ad growth in the last 12 months, according to industry analysts.
Other publishers, including News Corporation and Guardian Media Group, have warned in recent months about the threat from Facebook and Google to ad revenues and media plurality.
It comes as News Corp, TMG, GMG, Trinity Mirror and Daily Mail owner DMGT have been in talks about the possibility of pooling their ad sales in the UK to gain scale in their negotiations with media agencies.
UK newspaper print advertising slumped by more than 10% in the first half of this year and Brexit has added to the uncertainty.
TMG's accounts maintained the company was well-positioned and has "a strong foundation for the future" as it reported a pre-tax profit of £48.1 million in the year to January 2016, up from £45.7 million a year earlier, on roughly flat sales of £320.1 million.
TMG released edited highlights of its financial results two weeks ago but its annual accounts were only made public at Companies House this week.
The company declined to comment further.