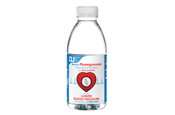 The paper, along with the water producer Works With Water, was criticised for a front page ad which had the headline: "Lower your blood pressure with our free spring water".

The Advertising Standards Authority said the promotion made medicinal claims for an unauthorised product.

Its ruling said: "We considered that readers could infer that the product would treat high blood pressure.

"We concluded that the ad could discourage readers from seeking essential medical treatment for a serious medical condition."

It said that the copy should have stated "help lower your blood pressure".

The Telegraph said that it not properly followed its own internal procedures, and that every effort would be made to avoid similar problems in future.