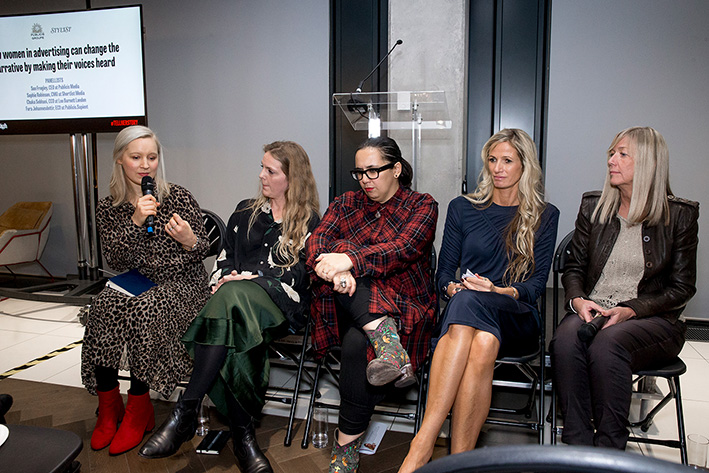 #TellHerStory is produced in partnership with Publicis Groupe and Stylist
"There is something wrong with the industry. We have to be awake and understand what is going on."
Fura Johannesdottir was one of the many voices calling out the gender inequality still pervading the creative industries at Campaign's #TellHerStory event.
The conference, which was held in support of Women's Aid and held at Saatchi & Saatchi's offices, used some of the stories from leaders in the creative industries to shed light on the lingering struggle for women to make their voices heard in the workplace and beyond.
Campaign trends editor Nicola Kemp explained that, in its 50th year, Campaign has reflected on how far the industry has changed in half-a-century. Thumbing through archived magazines from over the years, she said that it became clear that they largely reflected very different times – "a white, male vision of success".
But you don't need to scratch too far beneath the surface to see there is much more to do. Annette King, chief executive of Publicis Groupe UK, one of #TellHerStory's partners, said the industry is making many positive strides, but there is a persisting stumbling block when it comes to women in creative roles progressing to the top.
Where do all the women go?
The disconnect between the highly creative, original work that agencies do and the structure of agency work is, for some reason, leading to many women choosing to opt out.
Johannesdottir, vice-president and executive creative director at Publicis Sapient, said it's not because they are having children that a lot of women "fall out", but those who do choose to become mothers largely don't return to the industry. There is something wrong here, she said, rejecting the idea that pay might be the issue. "It is a cultural reason that we must tackle. Something in the culture is making them run away."
She added that more female and diverse leadership would ensure a more "inclusive, authentic" culture. "If you can't see it, you can't be it" really applies here, so Johannesdottir's strategy is to focus hard on more junior talent and how to grow people and help them move upwards in their careers.
Chaka Sobhani, chief creative officer at Leo Burnett London, said we need to be more public in terms of successes and failures – even at the hiring stage, an interviewer should be open about how much of a priority gender equality is. "The way things are, if my seven-year-old and nine-year-old girls want to come into the industry, it will still be a shit show for them," she said. "We need to be more punchy about it."
More ways to work equals more diversity?
Sue Frogley, chief executive of Publicis Media, said that more focus on its apprentice programme, rather than just graduates, has encouraged a more diverse range of talent to come through. She is also spearheading a new flexible working initiative that is based on outputs rather than hours logged. Now, people feel they have truly have permission to work flexibly, she said, adding that it's not the answer to everything but that flexibility is the new modern way of working and it's something women will appreciate.
Sophie Robinson, chief marketing officer at The Stylist Group, said companies must bring themselves up to speed there because technology enables flexible working but managers don't always know how to handle it, sometimes meaning people end up with the "worst of both worlds", with limited flexibility but an "always on" mindset. There needs to be more managerial training to tackle this, Robinson said, and advised people to set boundaries and barriers: "Don't ask. Say: 'I'm leaving at four and I will be back online at eight.'"
The power of speaking up
Finding the confidence to actually make that kind of statement is another matter entirely, because women are less likely to speak up than their male counterparts. Kemp asked the panel how we can encourage young women to raise their voice and their personal profile in a work arena. Robinson said that there is an urgent need to "rebrand what it is they are doing". Women are largely happier with the idea of telling stories and talking about material they are creating, she explained, but less happy to overtly self-promote: "We have to be careful we are not asking women to do what we have been asking men to do for ages."
Sobhani said there are many different ways to have a voice today, so you should "find what you want to talk about in a way you want to talk about it". She advised female creatives to do things that "scare the shit out of them" because it's the best way to find their voice and confidence. However, Sobhani said they should remember they are not necessarily a woman first and a creative second – they don't have to be two separate things.
Stories from the top
Sue Frogley, chief executive, Publicis Media
When Frogley started work in advertising, she said she was often the only woman in the room. At one point, she was asked to look after three "boys" until their new finance director arrived. A cheque for £15m went astray during this time – and turned up at the wrong group company, which initially refused to give it back.
"Of course, they sent the woman along to get their money," Frogely recalled. "I went to see this finance director – he was very amused. He knew he couldn't keep the money and had a signed cheque ready and waiting."
Frogely said she let everyone think she had done something amazing and was later offered the job of finance director, provided she didn't have the same salary and lied about her age. Frogley accepted the job but demanded the same salary and refused to lie. It was an interesting early life lesson, she said: "Know how to negotiate. Know your worth."
She leapt at the chance to join Publicis five years ago because of the 65% female board. "I have gone from being the only woman in the room to being with loads of wonderful women this evening," she said, pointing out that the real challenge is to have more men in the room as well. "They're afraid of doing the wrong thing, so we have to help them," she continued. "They have to feel comfortable too."
Sophie Robinson, chief marketing officer, The Stylist Group
Robinson credits Ken Robinson's book Finding Your Element for teaching her about herself.
"You have things you love and then things you're good at. The two rarely come together, but every now and again you can love and succeed at something. If you can bottle that and put into everything you do in career and at home, that is such powerful force," she said.
Attending an academic girls' quaker boarding school, Robinson was consistently bottom of the class – a "damaging place to be".
"I think what I didn't realise is just because you can't do something at A Level doesn't mean you don't have useful skills," she said. She revealed that her true skill, which has served her throughout her career, is having a strong network and surrounding herself with allies.
From leaving school with "no ambition" to eventually landing a job as "the world's worst" media agency receptionist, Robinson was shocked when the agency wanted to promote rather than fire her. She added: "Within a month, I was in a pitch. The guy that spotted me saw something in me and had so much belief in me – so I trusted him."
Robinson noted that believing in her own ability has been a constant struggle. "You can't buy self-belief in a shop," she said. "It's like going past a van driver who says 'Cheer up, love'. That's just my face!" She said that much of her success has therefore relied on people having self-belief for her and she made sure she did the same for others.
Having children was a pivotal moment for Robinson. Laughing, she recounted the moment during maternity leave when she called her husband to ask if he wanted sweet potato or normal potato with his chicken and realised she wanted to go back to work. "It had to be on my terms," she said. "I never asked permission – I said: 'Work is now my hobby and home is now my full-time job. If you accept that, I will come back.'"
Chaka Sobhani, chief creative officer, Leo Burnett London
Sobhani said she "felt" rather than "thought" her way through her career, crediting two things above all: being unable to bear the idea of not doing it and having incredible mentors to help her find her voice.
Starting out as a budding film-maker but having been "rejected by every film production company in London", Sobhani stumbled across her first mentors when she was taken on by Clive Howard and Michael Geissler. "Their generosity of spirit and the amount they invested in me out of their own pockets – they bought me a Super 8 Camera, they would drive me to interviews … all because they wanted me to learn," she said.
In a period of her life when she went from relationships with men to women, Howard and Geissler made it easy for her: "I didn't have the pressure of trying to be something I wasn't at work. They were cool dudes! I realise that in hindsight."
When Sobhani went to ITV, where she saw that women largely ran the shows, studios and networks, she met David Pemsel – one of the "most important" mentors in her life. She said that Pemsel made a point of surrounding himself with diversity of gender, background and skill, teaching her that emotion is the best thing to talk about – it's not the enemy. She revealed that when her mother got sick, Pemsel rang her to reassure her she shouldn't come back to work until she was ready.
"The most important things are your mentors and the tribe you build as you go through your career," Sobhani said. "You've got to talk! Feeling our work day to day is tough and you need as much help as possible."
Fura Johannesdottir, vice-president and executive creative director, Publicis Sapient
Johannesdottir grew up in Iceland, where she said gender equality was not a problem. Her grandmother was the chief executive of an auto company and the Icelandic president was female in the 1970s and 1980s. "I thought women could do anything," Johannesdottir said. "It was never a barrier in my life, because I never saw any difference between men and women." She added that it was "a privilege" that gave her the confidence to be anything she wanted.
Starting out with an ambition to be a designer, Johannesdottir was brutally honest in her first interview at an ad agency that she wasn't that interested in the job. The agency had another opening for a project manager and offered that to her instead. She added: "I barely knew how to send an email, but I said yes and I did it. It was the best decision I made. That's been my philosophy ever since – do what you need to do to make things happen."
In an agency of seven women and three men, things took a dramatic shift when a man took over and within a year there were 45 men and two women. It was an eye-opening lesson about the power of influence. "You tend to hire people like you," she noted.
Moving to New York for school was the next step and, despite hardly speaking English and the shock of New York's energy, another "jump" into the unknown became the best decision she ever made. Johannesdottir learned how to program and design, then produced a film that got into the Sundance Festival. Her first agency client was Nike. In the early 2000s, this male-dominated sector dragged Johannesdottir into "all kinds of stuff with clients that might not be okay today", she recalled. "The boys' club culture is dying slowly. Don't participate. I had to go pretty low and then pull myself out of it. It's better to be yourself."
Working in Istanbul during a period of frequent terrorist attacks gave her a "healthy" insight: "People have fighting power. They just stand up again and again, and nothing stops them – and they are so innovative. Being in the midst of it made me grow up – and learn empathy all over again."
Starting her life in a country where gender has never a barrier, Johannesdottir said she has been "hit in the face many times" along the way, but she insisted that women and men must both keep standing up and supporting each other.
Opening doors
Closing the event, Kemp highlighted that while women often struggle with the idea of self-promotion, everyone is incredibly comfortable opening doors to others. If we all do this for each other, she said, it's a brilliant jumping-off point for tackling the issue.
"We want to use some of our stories to help step forward into the future towards positive change," King said. "There is so much momentum to create equality for all and it's our job to keep pushing to make it a reality. Let's take this energy and use it as a springboard for all our careers."
---
Eleanor Kahn