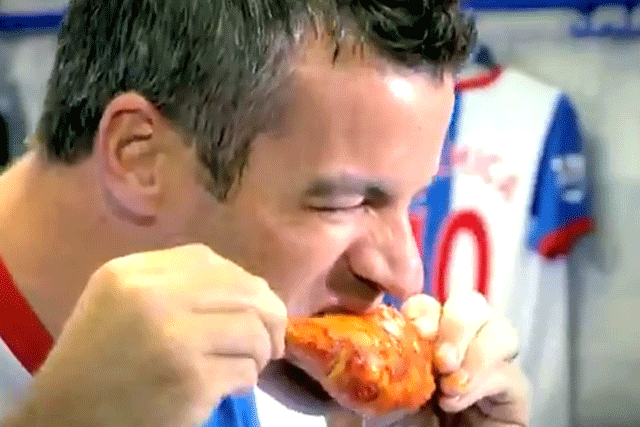 Since its inception in 1992, the Barclays Premier League has transformed the reputation of English football and, in turn, its appeal to marketers.
Over the last two decades brands have fallen over themselves to be associated with the league, the clubs and the globally adored stars that play for them. However, such is their acting ability, maybe footballers should be added alongside animals and children on the list of "never work with".
In my career I've worked on projects starring David Beckham, David Seaman and Roy Keane (fortunately he only had to frown for two seconds on screen). Thankfully none of their performances came even close to the dizzying lows of these ten cringe-inducing appearances.
1. Sky's Premier League launch ad
Where it all kicked off back in 1992. It doesn't get much more cheesy or homoerotic than this.
2. Solvil el Titus and Ryan Giggs
I'm not even sure Giggsy has a clue what's going on in this series of ads.
3. Chicken Tonight and Ian Wright
Ian Wright playing to type as the joker, but this was far from funny. He must have realised, as no official version exists online.
4. Physio Sport and Tony Adams
Arsenal legend, but why would anyone want Tony Adams as their imaginary miniature friend when going on a hot date to the pub?
5. Michael Owen and Asda
Never before has someone looked so happy to pick-up their Friday night takeaway. Maybe because he made it in and out without pulling a hamstring.
6. Venkys and Blackburn Rovers
From the season Blackburn were relegated. We're no nutritional experts, but maybe their pre-game diet might have been a contributing factor.
7. Casillero del Diablo and Manchester United
Granted, it's a terrible creative idea, but the acting relegates it to even greater depths.
8. Samsung and Victor Moses
In the ultimate example of 'shoe-horning product into a campaign', Torres can bake and Oscar can turn his hand to ice sculpting. Victor Moses clearly drew the short straw as his special talent is cleaning clothes.
9. Shinji Kagawa and Soft Bank
We've no idea what is being said, but this stunning performance may be all the better for it. Truly bewildering and fantastic entertainment.
10. Abitab and Luis Suarez
As you would expect from Luis Suarez, the acting is truly top drawer. It is only cringeworthy in that he is clearly quite proud of his reputation. The 'biting in the canteen' scene didn't make the final edit.