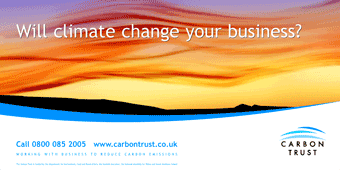 Tequila\ retained the account after triumphing in a pitch against other agencies on the Carbon Trust's digital and direct roster.

The agency has been the incumbent on both accounts since April 2007.

The Carbon Trust is a government-funded independent company that was formed in 2001 to encourage people to reduce the carbon emissions that they produce.

Tequila\ has created a number of campaigns for the company in the past two years, including a DM, press, experiential and online campaign centred around the brand's "get ready for the low carbon economy" slogan.

The work targeted businesses of all sizes, promoting the fact that that they could reduce their energy bills by being more careful in regulating their carbon emissions.

The campaign picked up a DMA bronze award.

In February, Universal McCann picked up the £6 million media account for the Carbon Trust following a pitch against Carat, Manning Gottlieb OMD and Brilliant Media. Advertising is handled by WCRS.

Simeen Kadi, the group head of marketing at the Carbon Trust, said: " In the current challenging economic climate, we need to help businesses benefit from the lower costs that carbon reduction can deliver. Tequila\ will help us get that message across in the months ahead."