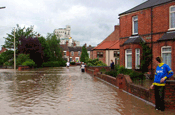 The campaign, which will be introduced in January 2009, will encourage people living in high flood risk areas throughout the UK to sign up to the free service.

Geodemographic data will be applied by Tequila\ to target traditionally hard-to-reach audiences with the campaign message.

Katie Slater, principal communications officer at the Environment Agency, said: "Tequila\ demonstrated a clear understanding of the need for a widespread mail campaign with an inclusive message, while simultaneously recognising the vital importance of contacting people who are often difficult to reach with public information drives."

Herdeep Natt, consumer insight director at Tequila\, believes that getting the message across to people likely to be affected by flooding is hugely important.

"We are delighted to be part of the Environment Agency's drive to highlight Floodline Warnings Direct, which will provide a free, vital service to residents at critical times," Natt said.