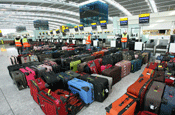 Jonathan Goldsmid-Whyte, the global chief executive at Kinetic's airport division Aviator, said that if advertisers have committed funds based on forecasts of passengers going through the terminal, they may be entitled to compensation from the airport sales contractor, JCDecaux, if those forecasts are not delivered.

"The clients should get what they are paying for and if it is going on for a long time then that compensation will be in-depth. But BAA will get this sorted out," he said.

More than 400 flights have been cancelled at T5 since it opened on 27 March and cancellations are expected to continue this week. Major advertisers at T5 include Visa, Nokia and Samsung.

Goldsmid-Whyte added: "While the situation is unfortunate initially for advertisers, they are running 12- or six-month campaigns. They've committed funds as part of a long-term strategy, rather than launching products on the back of T5.

While it is disappointing, most realise it is just teething problems."

Neil Alldritt, the chairman of PSI Advertising, Posterscope's airport arm, said two clients had contacted the agency with concerns about the negative publicity around T5.

Alldritt said: "It is something the media are jumping on with glee and we have a couple of anxious clients because of the association with such a high level of press criticism. Clients will be calmer once they've taken it in the round. The stuff of building and developing an airport terminal is complex.

"These problems are not unusual when compared with new airports and terminals around the world."

JCDecaux Airport has invested £25 million in digital and poster sites in T5. There are 540 advertising sites at T5, 206 of which are digital.

Julie France, the UK managing director of JCDecaux Airport, said: "It is a short-term problem and we don't expect it to continue. I don't expect there to be any significant implications for audience delivery.

"The picture in the airport is very different from what is put out in the national press. The airport looks fantastic, the advertising looks great and passengers are clearly enjoying the experience."