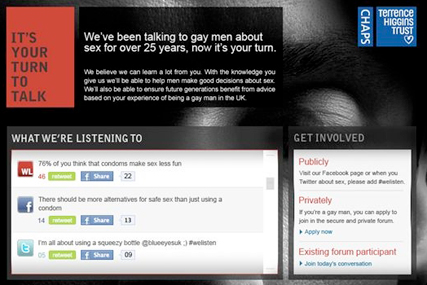 The campaign, created by G2 UK, and funded by the Department of Health through CHAPS, an alliance of community organisations focused on HIV prevention, invites men to take part in an online discussion about sex and gay life.
Running this month, the conversations that take place will inform THT's future communications strategies.
The new strategy follows G2's appointment last November and the activity features the line: 'It's my turn to talk'. Ads will run online, in print titles, on outdoor formats across the London Underground network, and in bars and clubs in major UK cities.
Three different digital platforms have been created to support the ads, including a private forum where men will be invited to take part in discussions, vote in polls and write their own diaries.
Gay men will also be able to share their views via the 'We listen' Facebook page, or by using the hashtag (#welisten) when on Twitter. Key findings from the listening activity will be published on the microsite welisten.org.uk, and will be used to inform the next phase of the campaign.
In the past, the charity has focused its communications on raising awareness about HIV, but G2 UK challenged THT to take a radical new approach with its strategy.
Alan Wardle, head of health promotion at THT, said: "While we have always ensured gay men are involved in our campaigns, this is the first time we've sparked a conversation with such large numbers. It's also the first time we've used social media to listen."