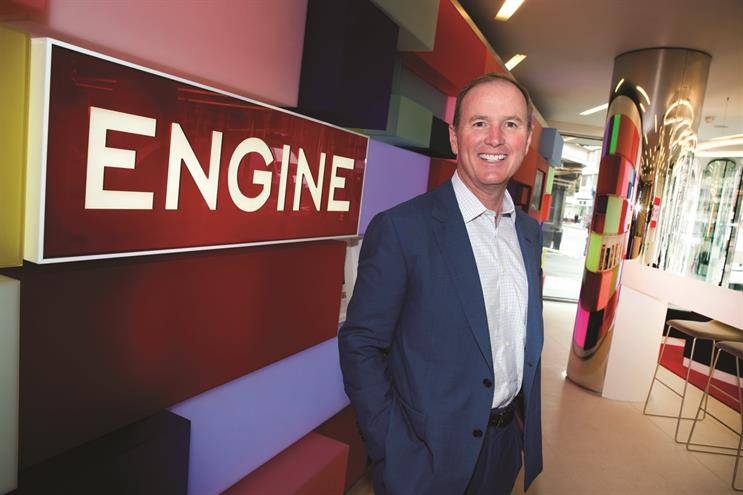 The most remarkable thing about Terry Graunke, whose Chicago-based private equity firm, Lake Capital, has acquired Engine – London's last remaining independent marketing independent of any significant size – for $162 million. He neither thinks nor talks like a smash-and-grab corporate raider.
Not that he isn't a shrewd deal-maker. After all, this is the man who, 14 years ago, got Cordiant to pay a an eye-watering $540 million for the Lighthouse Group, a reckless splurge on Cordiant's part that helped hasten its downfall. One UK analyst has gone as far to ask if he is a Sir Martin Sorrell in the making.
In other ways, though, Graunke is no identikit PE investor. For a start, he represents a new breed of middle-market PE shops in the U.S. (less known and more niche than their larger peers) that have not been active in the marketing sector in recent years.
It is these smaller players, like Lake Capital, that are making bets that certain forms of digital, data gathering and consumer marketing will dominate in the coming years.
Lake Capital has also been able to cash in on the fact that PE firms in the US do little cross-border investment, meaning that few of them are currently active in the UK marketing sector.
Jim Houghton, a partner at the mergers-and-acquisition specialist Results International, says: "A generalist investor doesn't want the added complication of having to understand both the sector and the market they are investing in. Graunke, however, knows the U.K. market well."
What's more, Graunke insists he's a long-haul player, rejecting some analysts' interpretation of his appointment as Engine's executive chairman as his way of exerting complete control over the group's future sale, perhaps in as little as two years and certainly no more than five.
Indeed, some analysts speculate that Graunke's predecessor, Peter Scott, who becomes vice-chairman and head of global strategy for the enlarged group, is pleased with the arrangement because he will not have to take responsibility for drawing up an exit plan.
For his part, Graunke is adamant that when the time comes for Lake's investment to be monetized it will be done in an ordered way with new investors in place. Meanwhile, he dismisses any suggestions that he'll be here today and gone tomorrow.
""I'm running the company, and I intend to be doing it for a long time," he insists. "It's not unknown for us to invest in a business for as long as 10 years. I have no exit strategy or a timeline for one."
Graunke's commitment reflects his belief that there's a real opportunity for a middle-market agency-services holding company that a beefed-up Engine can become.
The enlarged group, which will have combined revenue of more than $400 million, brings together Engine's aggregation of companies specializing in PR, direct marketing, data analytics, social media and digital as well as the ad agency WCRS with two of Lake's majority-owned operations: the Hollywood-based entertainment marketing company Trailer Park and the research company ORC.
Graunke promises that this newly integrated entity will be augmented by further activity. He talks ambitiously about extending Engine's presence in China, including capitalizing on its expanding movie market; using Brazil to get a foothold in Latin America; building more expertise in data, analytics and programmatic advertising; and introducing more IT into the UK operation to improve performance.
It is an approach that much endears him to Engine President Robin Wight, who marks him out as one of the few PE bosses who understand the marketing sector because he is a product of it.
Graunke echoes this analysis. "I love rolling up my sleeves and getting involved," he says. "I love seeing clients and going to pitches." And he says he is eager to harness the group's collective auto experience to plug the gap left by the recently departed BMW from WCRS after 35 years.
This hands-on approach informs the way Lake invests in the marketing sector. "We come at it differently from other PE firms," he explains. "We get down to the financial aspects only after we're sure that it will be a good alliance for us strategically and culturally."
Some, though, take a more jaundiced view. "There are no obvious benefits for Engine in this deal," Bob Willott, the editor of Marketing Services Financial Intelligence, argues. "Lake's objective has to be to build a business it can sell."
Graunke dismisses any suggestion of a crude lumping together of businesses with the aim of making a fast buck but what he describes as "a well-crafted consolidation."
He points to what he claims are clear synergies between Trailer Park and Engine's interactive shop Deep Focus which will together create a compelling digital content offering.
Add ORC's research capability and the creative potency of WCRS and the range of the group's skillsets becomes more obvious, he believes.
This certainly doesn't sound like get-rich-quick talk but a more measured approach that seems to have shaped Graunke's way of doing business since he dropped out of college to start his own direct-marketing company more than 30 years ago.
"In those days the DM companies got the scraps," he recalls. "But I've not spent my career with a chip on my shoulder. I'm an entrepreneur first and an investor second."
He says he wants to shape Engine as a response to the game-changing developments he has witnessed within the marketing sector since he began working in it – from the revolutionary impact of the microprocessor in the '80s and the internet during the following decade to the smartphone's arrival heralding a seismic change in purchasing decisions.
"Over the next five years much of the $600 billion spend on marketing will be shifting from traditional to digital," he predicts. "Change is taking place faster than I've ever seen it."
He suggests that what's happening opens up new opportunities for nimble middle market players like Engine to meet different client demands that the big holding companies, the products of a different era, find harder to satisfy.
"Over the last 15 years the middle market has been shrinking because so many of the players have been gobbled up," he claims. "We think there are real opportunities for us. And the fact that no client represents more than two percent of our business gives us a wonderful platform on which to build."
So is he the Sorrell de nos jours? "We've met," he smiles. "And if the way we perform means we're thought of as a smaller version of WPP, that would be very flattering."
Certainly, Lake's decision to take over Engine, succeeding the Florida-based alternative investment form HIG Capital, which had a 40 percent stake in the group, has been given an upbeat reception. Lake now owns 85 percent of Engine while management and staff own 15 per cent.
"Engine is a fundamentally sound business with a good creative reputation, a highly rated management team and a genuinely blue-chip client book," one analyst points out.
"If Lake can find the right synergies, cut the right costs and make the right acquisitions, a business like Engine could actually provide the high margins and returns PE firms demand."
Not that Engine's arrival in Lake's stable has been completely smooth and without controversy even though Graunke and Scott have been friends since they first went shooting together in 1998.
Subsequently, Graunke helped Scott in an aborted attempt to buy a U.S. agency. After what became Engine bought its freedom from Havas, the pair had a conversation about a possible deal. However, Graunke says, "I wasn't interested. At the time it was just WCRS. I wanted a bigger group."
Even as the takeover was about to be completed, a potential deal-breaker emerged as ex-Engine employees revolted at being offered less for their shares than existing staff.
Graunke clams the media blew the spat out of proportion before it was swiftly settled. Some though say it highlighted the dangers surrounding the sale of one privately-owned business to another.
The problem arose because, over the years, a number of successful entrepreneurs sold their businesses to Engine, accepting shares in part-payment in the expectation that Scott would eventually obtain stock market listing for those shares. However, inconsistent financial results meant a floatation never happened.
"Of course anyone who sells their company in exchange for shares in another privately owned company takes a risk and must be prepared to suffer the consequences," Willott says. "And that is one of the lessons that may be learned from this affair, not least by those continuing employee shareholders of Engine who are being offered shares in a new Lake-controlled holding company rather than cash."
Moreover, Willott adds, senior Engine executives who had already profited healthily from the HIG sale, acquiesced in a deal that offered less to departed employees whose companies Engine had bought than was being offered to existing employees.
"This may have been regarded as clever commercial deal-making – but it begged an enormous question about morals," Willott concludes.
So was the tactic moral as well as legal? Graunke has no doubts that it was. But while that may be debatable what's certain is that while he may talk the talk of a marketer he can still walk the walk of a very canny operator.