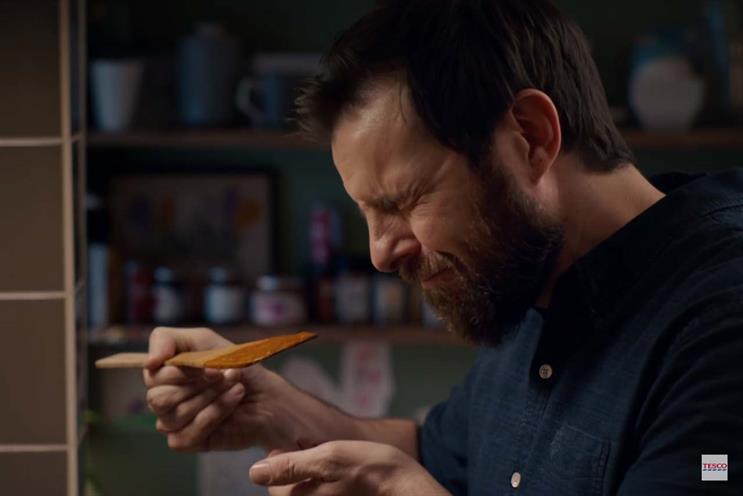 The supermarket's total, which includes TV, radio, cinema, press and outdoor, was up 68.2% to £73.9m.
It made Tesco an outlier, with media spend by all retailers down 1.9% to £1.81bn, according to Ebiquity's The Advertising Report.
Tesco was the second biggest advertiser among retail brands, after McDonald's, which increased its spend 10.2% to £87.9m.
But most other supermarkets spent either the same or less than in 2016. Lidl (£70.5m) and Asda (£59.5m) spent roughly the same, while Morrisons (£51.8m), Aldi (£48.8m) and Sainsbury's (44.4m) each spent between 11% and 25% less.
Tesco is set to report its annual results tomorrow, with analysts predicting a significant increase in pre-tax profits. Tesco has consistently grown sales for the past year, though in common with fellow big four supermarkets, its market share has continued to fall.
FMCG brands: big guns firing
The report also revealed a huge concentration of FMCG adspend into the biggest brands. Overall spend on FMCG brands dropped 9% to £1.38bn. The top 10 brand owners by brand spend cut their budgets almost as much – by 7.9%, to £579.8m.
But the biggest 50 individual brands saw their support increase by a fifth to £387.7m – with the next 50 also up almost a fifth to £227.2m.
The same trend can be seen when looking at individual companies. Procter & Gamble was once again the biggest advertiser among FMCG owners, accounting for more than £1 in every nine spent on all FMCG brands.
P&G's overall spend was down 3.1% to £156.9m. But most of its top brands got a boost in ad support. Six of the top ten FMCG brands were P&G: Pantene Pro-V, Ariel, Oral-B Pro, Fairy, Lenor and Head & Shoulders. Of these, all but Head & Shoulders saw their spend increase – with the other five each increasing by at least 17%.
The second biggest FMCG advertiser, Unilever, was the only one of the top 10 brand owners to substantially increase its total spend, which was up 17.3% to £109.4m. Unilever's top brands Dove (£12.3m), Lynx (£6.4m), Magnum (£6.1m) and Ben & Jerry's (£5.5m) received budget boosts ranging from 49% to 166%.