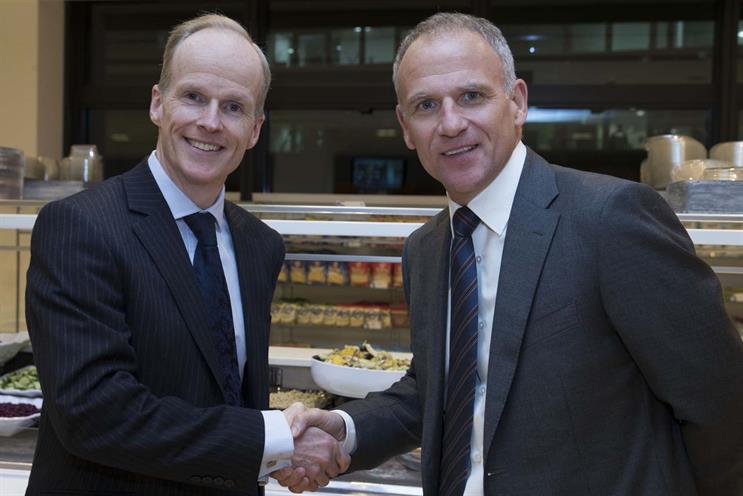 Tesco's chief executive Dave Lewis hailed the move as an "opportunity for new innovations in the way we serve Britain with food," he said in a conference call this morning.
This would include significant development of Tesco's out-of-home food offering, Lewis said – meaning food that is not designed to be taken home to eat.
Responding to a question from Campaign, Lewis acknowledged he had an eye on the threat posed to established retailers by Amazon.
"We think the best way to deal with any competitive situation to improve the way you serve customers," he said. "If we keep ourselves focused on that and do that better than competitors do we can be sure we'll create the UK's leading food business."
The figure of £3.7bn values Booker 12% higher than its stock market closing price yesterday. It means Booker's shareholders will own about 16% of the merged company.
Charles Wilson, chief executive of Booker, will join the combined company's board and executive committee. The discussions, said Lewis, had been ongoing for more than a year.
Lewis said: "Tesco has made significant progress in turning around our UK retail business.
"This merger with Booker will further enhance Tesco's growth prospects by creating the UK's leading food business with combined expertise in retail, wholesale, supply chain and digital. Wherever food is prepared and eaten – 'in home' or 'out of home' – we will meet this opportunity with the widest choice and best service available."
The merger would not result in large scale restructuring, the two leaders said.
Booker owns the Londis, Budgens and Premier Stores brands, although shops using these names are individual businesses run on a franchise basis. Wilson said it was unlikely that many stores suplied by Booker would change identity as a result of the merger, but it could lead some to adopting the OneStop name, owned by Tesco.
Lewis admitted it would "take a bit of persuasion" convincing independent convenience store owners who would now find themselves being supplied by Tesco, but he insisted that they would notice the benefits of the new set-up before long.