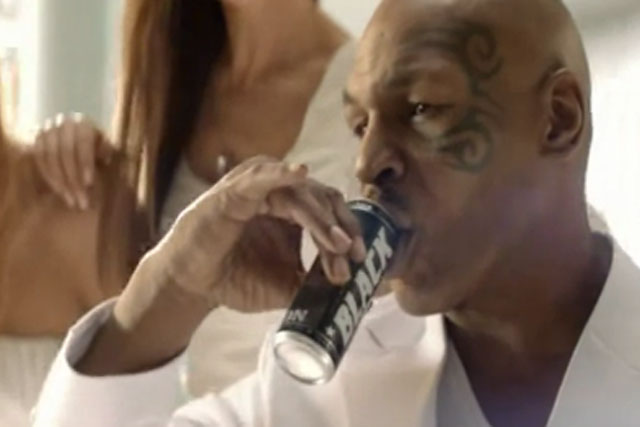 The drink, called Black Energy, is Polish. It is sold in the UK in Tesco, Sainsbury and Asda.
Tyson, once the most feared man in boxing, is the drink's brand ambassador and features in its advertising campaign, which claims to offer "sexenergy."
Tyson was convicted for rape in 1992.
The supermarkets have been hit by consumer complaints while an online campaign to get the drink thrown out of stores is being deluged with signatures.
A spokeswoman for the charity Rape Crisis said: "It is deplorable that supermarkets think it is appropriate to revere the rapist Mike Tyson and put him in a position that implies young people should trust his judgments and buy a drink that he promotes.
"When he was in that position of trust he raped women abusing any trust that society should have in him."
Campaigning group Mumsnet also hit out at the supermarkets.
Justine Roberts, founder of Mumsnet, said: "Lots of Mumsnet users are disappointed that the likes of Tesco, Asda and Sainsbury's are stocking a product endorsed by convicted rapist, Mike Tyson, and would rather that someone who showed little remorse for his behaviour wasn't given the opportunity to cash in on his notoriety."
The manufacturer of Black Energy is understood to have altered the packaging and has removed an image of Tyson from the can in the English market. But Tyson's name is still on the packaging and the drink carries a clear association with the boxer.
None of three supermarket giants have plans to delist the drink, despite the outcry.
A spokesperson for Tesco said the drink was popular with its Polish customers adding that "we understand that some of our customers have raised concerns about the products and we have worked hard with the supplier to alter the packaging of the product."
Sainsbury said a "small number of people have contacted us about the marketing campaign which the company makes Black Energy is currently running. We are closely monitoring this and will pass on these concerns to the owner of Black Energy."
Asda also said it was monitoring the situation.