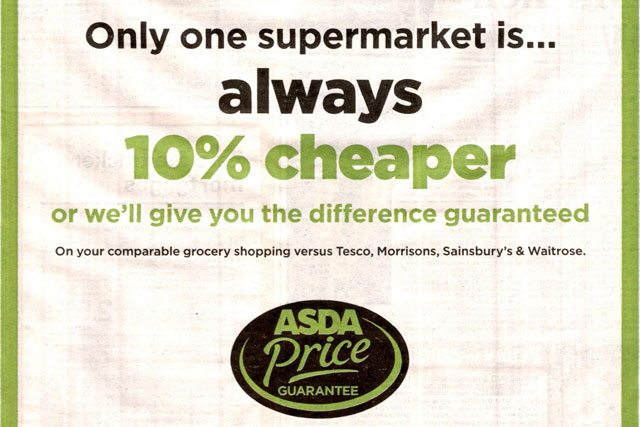 The ruling by the Advertising Standards Authority (ASA) is the latest development in a series of tit-for-tat complaints between the two supermarket giants that refuses to die.
In August last year, Tesco failed to get a campaign from rival Asda banned, after it claimed the ad was misleading because it believed it implied Asda was always 10% cheaper. In April, a Tesco ad was banned after an Asda complaint.
The latest press campaign run by Asda contained the claim, "only one supermarket is…always 10% cheaper", a reference to the Asda Price Guarantee, which offers to give customers the monetary difference if it is not 10% cheaper than rivals.
Tesco complained to the (ASA) about the "only one supermarket is…always 10% cheaper" claim, because it confused a price promise with a lowest-price claim.
The ASA ruled that the claim would be interpreted as a lowest-price claim and said qualifying information explaining the Asda Price Guarantee contradicted the supermarket's absolute headline claim.
It told Asda not to reproduce the two press ads, which ran in September and October, in their current form.
An Asda spokespeson said: "The fact that it's not customers complaining, but a competitor that can't match our price promise, says it all. Our customers love being able to check how much cheaper their shopping is at Asda and they're not confused in the slightest."
Follow Matthew Chapman at @mattchapmanUK