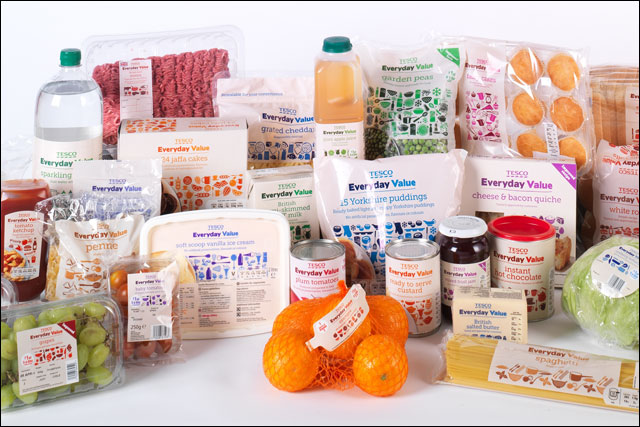 The Everyday Value range will feature brighter packaging than its predecessor.
David Wood, Tesco UK marketing director, said: "Tesco was the first supermarket to launch a 'value' range back in 1993, the blue-and-white-striped brand giving customers a down-to-earth option. Almost 20 years on and an affordable quality range is more relevant than ever, but customer needs have changed."
Tesco said Everyday Value would focus on three specific areas – quality, healthier options, and packaging improvements.
In total, the supermarket group is introducing more than 550 new lines, beginning today (4 April).
Examples of the new range include Tesco Everyday Value fish fingers, which contain 100% fillet of fish, and bran flakes and corn flakes fortified with vitamins and iron.
The Everyday Value range will include no MSG, hydrogenated fats, artificial flavours or genetically modified ingredients. A number of products have also been reformulated to contain less sugar and fat.
It is unclear what level of marketing support will be accorded to the new range, which will compete against the likes of Waitrose's Essentials and the Sainsbury's Basics range.
Follow John Reynolds on Twitter @johnreynolds10