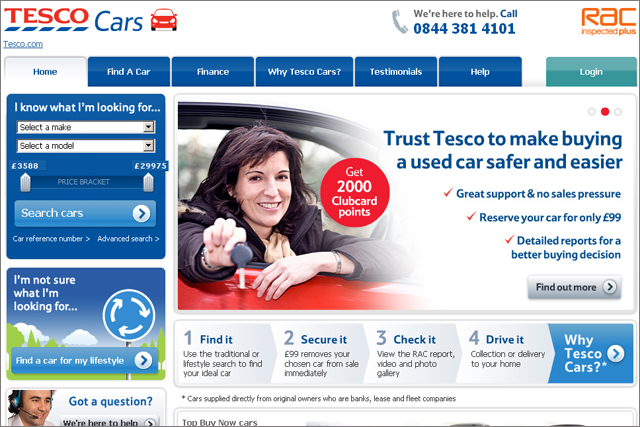 Tesco owns a minority interest in carsite.co.uk, which will now be run as a Tesco brand, with the option to buy the remainder of its stake in the future.
Tescocars.com collects the details of 3,000 cars per week sourced from fleet operators, and offers 2,000 Clubcard reward points as an incentive to consumers.
To ensure the cars are in good condition, the site is run in conjunction with the RAC, which gives each car 167 separate checks before it put on sale.
Andrew Higginson, chief executive of retailing services at Tesco, said: "By supplying directly to customers, there is no middle man, no expensive showroom and no salespeople on commission."
After-sales support will come from 1,000 independent garages, offering service and finance deals that Tesco claims will be 30% cheaper than dealers.
The launch comes as another used car business webuyanycar.com was slammed by the Office of Fair Trading for giving customers much lower prices than it quoted them online.
Tesco's price matching promotion against Asda was watered-down last week, as consumers were thought to be buying products simply to get double the difference on refunds.