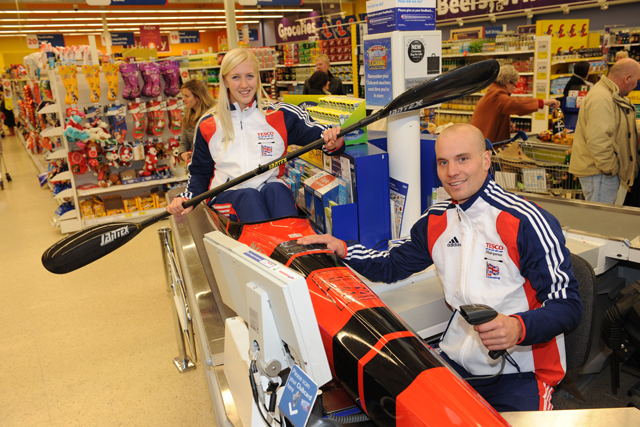 The grocer chose to support GB Canoeing because the Lee Valley White Water Centre, where the 2012 canoeing and kayaking events will take place, is close to Tesco's corporate headquarters.
Richard Brasher, commercial and marketing director at Tesco, said: "We're proud to welcome GB's canoeists as they relocate to our local area, and we look forward to helping them boost interest in the sport as part of our commitment to getting people active. We hope the GB Canoeing Team can go all the way to Gold with our support."

GB Canoeing aims is to make Great Britain the world's leading Canoeing nation. There is a solid base to build on, with British canoeists winning nine Olympic medals and 15 Golds at the World and European championships this year.
Paul Owen, chief executive from the British Canoe Union, said: "The support of Tesco is invaluable for our athletes, enabling us to invest further in their training and equipment."
Kayaks are now available to buy through Tesco - a blue 'TWF Sit on top kayak' costs £280 and will earn a white water enthusiast 560 clubcard points. Various kayaking accessories are also available.

Separately, Tesco also released its interim management statement today, with sales rising 8.8% in the three months to 27 November. Brasher has said Tesco was expecting its 'biggest-ever' Christmas this year, with an increasing proportion using the group's mobile site to buy.

Terry Leahy, chief executive, pointed to "good progress in the third quarter" and said there would be continued investment in the shopping trip and new space openings.

He said: "As the global economic recovery gathers pace, our broad-based strategy, combined with our ongoing focus on productivity savings, is enabling us to maintain growth in a sustainable, profitable way."