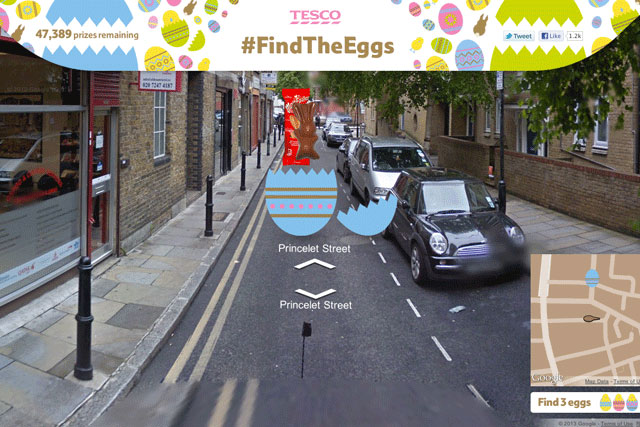 Participants can find out where the eggs are hidden by visiting a microsite and using the GPS on their phone or entering their postcode to begin the search.
Players who find three eggs can claim a chocolate bunny in-store or online, using a digital coupon, while those who find a golden egg will win a tablet.
News of the mobile-focused activity comes as Tesco also runs a mobile marketing campaign that messages women in geo-fenced areas with offers about money off their next shop.
The activity marks one of the first projects of Jude Brooks, head of social communities and insight, since she joined Tesco in the New Year from Coca-Cola, where she held an interactive manager role.
Brooks heads a team of around 10 social media specialists who are in charge of Tesco's Facebook, Twitter and YouTube channels, and reports to digital and social director Tom Daniell.
The seasonal Easter digital activity follows on from the 'Pull-A-Cracker' campaign Tesco ran at Christmas, which Tesco claims had thousands of Twitter users pulling a virtual cracker with friends.
Brooks said: "Our customers loved 'Pull-A-Cracker' at Christmas, so for Easter we wanted to find another way to bring people together online to join in the fun."
Tesco will also launch a 30-second television ad on Sunday 24 March that features a family sitting down for an Easter lunch, while the youngest child searches for an Easter egg.
Follow @mattchapmanuk