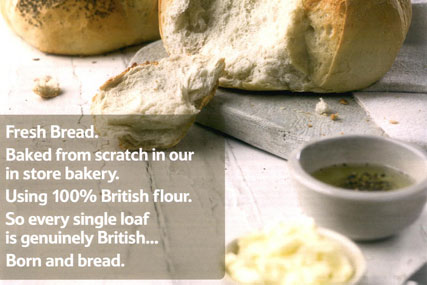 The magazine ad from the UK's biggest supermarket was created by The Red Brick Road and ran in April.
It read: "Fresh bread. Baked from scratch in our in store bakery. Using 100% British flour. So every single loaf is genuinely British … Born and bread".
The small print stated: "Subject to availability. Selected UK stores. British Flour used in all products that are baked from scratch in store as stickered in pack. French Baguettes, Batons and products not baked from scratch excluded".
Tesco claimed that bread was baked from scratch in 504 of its in-store bakeries, predominantly in its larger stores. In 1,288 stores, Tesco said it used part-baked, or "bake-off", bread that was "finished" in the in-store bakery.
The retailer further claimed customers would not recognise that Express stores had an in-store bakery, because they only baked three or four lines of bread.
However, the ASA judged that the ad should be banned from appearing in the same form again. It stated: "Because we considered that the ad implied that all Tesco stores with a bakery facility baked bread from scratch, which was true of only a limited number of stores, we concluded the ad was likely to mislead."
Iain Loe, chair of the Real Bread Campaign, said: "We believe that this ruling sends an important message to unscrupulous advertisers. If you plan to hide or distort the facts in an attempt to draw customers away from small, independent bakeries that make an honest living baking honest loaves, the people of Britain won't stand for it."
The Real Bread Campaign is part of the UK charity Sustain, which is an alliance for better food and farming. It supports the baking of more real bread and encourages people to eat more locally produced loaves.
In March, it published 'Are supermarket bloomers pants?', a report that claimed "almost no loaves produced by the in-store bakeries of six major supermarket chains met even the Campaign's basic Real Bread criterion of being produced without artificial additives, and that many were re-baked, rather than freshly baked."