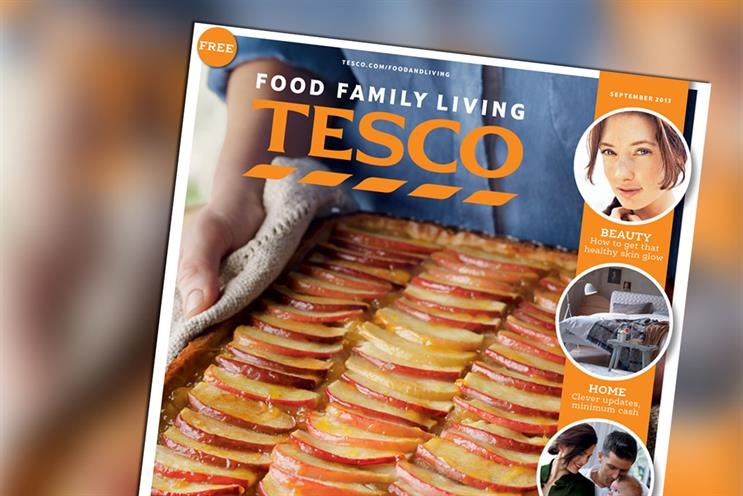 The new-look Tesco magazine will be published 10 times a year, and replaces both the bi-monthly titles Tesco Real Food and the old-style A5 Tesco magazine.
Created by Cedar, Tesco's content marketing partner, the new approach is designed to engage with readers and the retailers customers across three core pillars — food, family and living.
The magazine will be developed alongside a new website and social media platforms, and is available in print and tablet form, with an augmented reality cover and click-to-buy features delivered using the Metaio platform and the Tesco Discover app.
The content hub at tesco.com/foodandliving now aims to deliver food and lifestyle content through a single portal.
Dunnhumby will continue to handle advertising sales across the new print and digital platform, as well as the ongoing research and insight into the Tesco shopper.
Sharon Stuart, head of publications and in-store media sales at dunnhumby, said: "Advertisers are already engaged with the huge and significant audience that Tesco Magazine reaches. The new magazine brand – both in print and digital – coupled with dunnhumby's unique insight into the Tesco shopper, gives even more targeted and creative opportunities."
There are more than 330 recipe videos, including brand new interactive YouTube videos, where the customer can click menus within the visuals to choose which recipe they want to learn more about.
Customers can also join the 'Love Every Mouthful' food conversation across six social channels – Twitter, YouTube, Pinterest, Instagram, Facebook and Google+.
The old Tesco magazine had an average distribution of 1,945,015 according to the official audit figures for the first six months of 2013, with each issue attracting up to 7.2 million readers according to the 2012 NRS.
Maureen Rice, editor-in-chief at Cedar, said: "This new magazine represents the fantastic evolution of Tesco's industry-leading content."