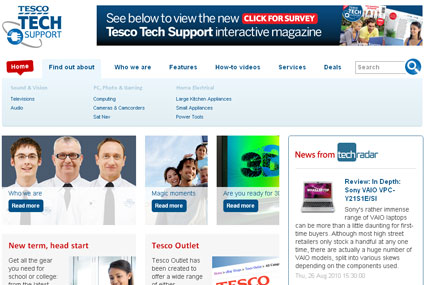 Since 2008, the retailer has operated a technical support service for customers who have bought or are considering buying any electrical goods, such as cameras, laptops or tumble dryers. The service has more than 1,000 advisers across the UK, at 200 Tesco Extra stores.

Tescotechsupport.com will accompany the free quarterly Tesco Tech Support magazine, which launched earlier this year and is published by FuturePlus.
The second issue of the 68-page magazine is available in-store now, with further issues planned for November and February 2011.
The new site offers "how-to" tech videos fronted by Tesco tech support employees, as well as feature content from the quarterly magazine. The site also includes a news feed from TechRadar.com, the consumer technology website published by Future.
Kelly Chapman, commercial manager, marketing, Tesco, said: "With more than 5,000 products in an ever-increasing range, it is important that customers make the right purchase to meet their budget and needs."
Jayne Caple, director of FuturePlus UK, said: "We're delighted to be strengthening our relationship with Tesco, working closely with them to promote Tesco Tech Support. The service is increasingly popular in-store and is proving invaluable to thousands of customers every day."