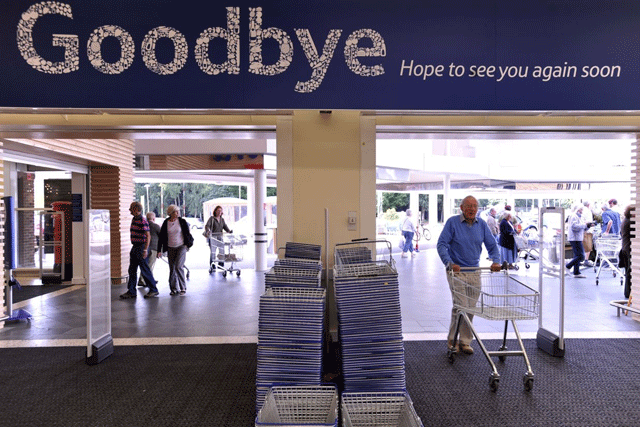 Today the UK's biggest supermarket chain, Tesco, posted a whopping 23.5% drop in profits during the first half of this year. Looking closely at the UK and the like-for-like sales (stripping out the impact of new stores) there was a drop of 0.5%.
Not a pretty picture particularly when you look at arch rival Sainsbury during this period – reporting a 2% rise in their like-for-like sales. In fact, according to Sainsbury's chief executive, Justin King, Sainsbury is the only major supermarket increasing its market share over this period.
So what has happened?
There are obvious commercial and economic factors at play here. We're in recessionary climate and people just don't have the money to spend like they used to - hard for Tesco as they have a much greater mix of non-food items than rivals, which is where consumers are cutting back the most.
Another key factor is that Tesco has been most affected by the growth of so-called "hard" discounters such as Aldi and Lidl. Interesting when you think that the position Tesco has taken for many years is that of the consumer champion of low-cost value.
The Every Little Helps campaign has repeatedly told us not to worry: Tesco is looking after our interests and doing everything they can to deliver the best value for money to us so we don't have to worry. It has also delivered a message that value is about low cost and low price.
Value doesn't just mean "lowest-price", it means experience, it means provenance, it means a whole host of other things.
But shoppers are much more savvy now, a combination of choice, readily available information and need. Value doesn't just mean "lowest-price", it means experience, it means provenance, it means a whole host of other things.
When you boil it down to just price, what you are trading on is purely something functional that can be offered by anyone and everyone – so what sets you apart? What do you really stand for that you are delivering to your customers?
A quick reference to Sainsbury and we see a very different, much more emotional message that is chiming with consumers and winning sales. Sainsbury's are leading with "Live Well for Less".
The copy runs like this: "Living for less isn't just about great food. It also means making the most of the good things in life, sharing fun moments or maybe cooking memorable meals together. All without paying the earth for it."
See the difference? The value message is still there – you are not going to ripped off - but the focus is much more on what is important in life, the real things. After all, no-one want to be reminded that they are poor. Remember the savvy shopper is in control.
A strength for Sainsbury's has been this ability to make emotional connections and build strong brands. Tu, the clothing range, is growing at twice the rate of food; and their own-brand food offers, such as Taste the Difference are in turn growing at twice the rate of branded goods.
Small things, too, make a difference emotionally, things like welfare and provenance, are much more resonant in the light of the horsemeat scandals of the first half of this year. All fresh pork sold in Sainsbury's is British and for the fifth year in a row they are the number-one retailer for fresh fruit and veg, selling more than 200m British apples and pears. This matters to people.
So what should Tesco do?
Start by examining value and thinking beyond price to the things that are important in consumers' lives today. What does the very core of Tesco stand for?
Make that emotional connection, tell your story, invite consumers in and make them feel valued and loved. They will love you back, again.