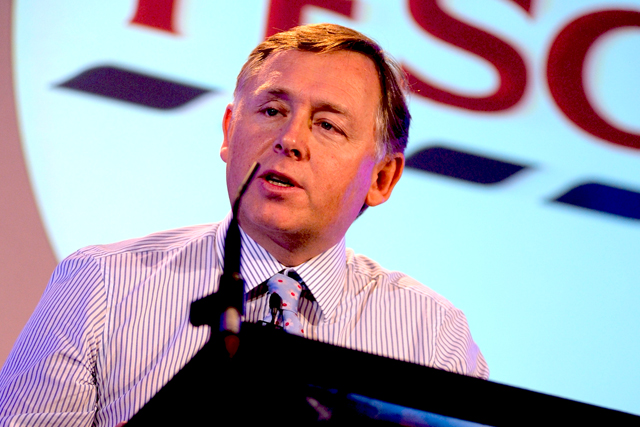 Richard Brasher, commercial and marketing director, who will become chief executive of the UK and Ireland business in March, showed off new store designs at Wembley in north London today (25 November).
The store has a new catalogue and collect service for household and electrical goods, and a department-store theme for clothing.
Brasher said: "We believe it will be our biggest Christmas yet."
The biggest shopping day is expected to be 23 December, with the retailer taking particular interest in data from December 2004, the last time Christmas day fell on a Saturday.

Brasher added: "Consumers would be returning to a traditional family event this year. The space allotted for Christmas has increased by 5%, and in key sectors as much as 20%."
Tesco was said to now hold 20% of the video gaming market, which has been bolstered by the success of 'Call of Duty'. The video game brought £10m of sales in its first week.

Impulse and last-minute DVDs, video games and toys are prominently displayed alongside traditional Christmas decorations, toys and other paraphernalia. Brasher estimated that Tesco holds 15% to 16% of the toy market.

The family-oriented Christmas meant a return to traditional toys and games. "Monopoly will be very big this year," he predicted.
Children's Christmas costumes for nativity plays are also expected to be popular. A new Virgin Mary costume was featured for girls that includes a free plush Jesus for £8.
The new store design moves non-food items out of strict aisles, with clothing separated by tall partitions, creating an effect similar to that in a department store.
Health and beauty products have been given greater prominence, with premium scents now out of locked displays, but greater policing by staff on the floor.

The Wembley store is one of four trialling a new type of shopping collection for non-food and household items. Customers examine products on display, and then buy through an Argos-style laminated catalogue, touch screen and collection desk. Consumers can also shop online and collect or arrange delivery.

Tesco said the collection points allowed the number of electrical and home items to increase from 2,000 to 5,000 at the store, and could be used to give far greater choice in Tesco superstores, but the trial was at too early a stage to show how successful it has been.

Brasher said the new stores would put the focus on "more service, more range and more people on the floor."
In food, Brasher revealed that the premium "finest" line now outsells the "value" lines, with £1bn "finest" turnover compared to £800m "value" turnover.

The group also uses a refrigerated train to take citrus fruits from southern Spain to the UK twice a week, and will be of particular importance, transporting more than two million kg of clementines for Chtistmas.
He said: "We monitor turkey sales very closely. We are selling frozen from now, but we have to keep an eye on sales because people may opt for fresh," and a fine balance had to be struck.

Brasher also defended the grocer's decision to set up its own distribution for the new album by Girls Aloud singer Nadine Coyle, saying: "People have been a bit harsh," on the album. He added: "Making exclusive products for us to sell is a good way forward."

Tesco's predictions for top festive toys:

· Toy Story Space Ranger Buzz Lightyear
· Lego Star Wars Imperial Star Destroyer
· Kung Zhu Hamsters
· New Bright Velocity Buggy
· Chilly Plush soft toys
· Monopoly Revolution
· Beyblade Battle Tops
· Little Miss Sunshine doll
· Moxie Doll and Furniture Set
· VTech Kidizoom camera