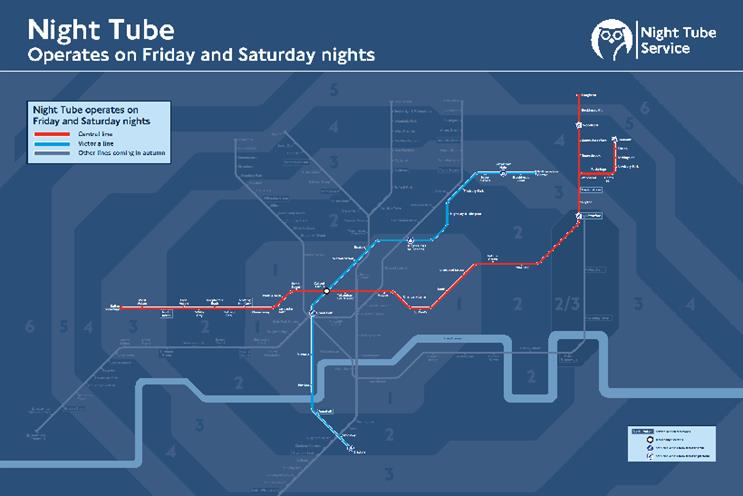 The service, which runs through the night on Friday and Saturday, initially on two lines, kicked off on Friday night after long delays caused by negotiations between TfL and transport union RMT.
Tesco began trialling 24-hour opening in seven of its stores in locations close to stations on the Victoria and Central lines. To mark the start of the extended hours, the supermarket handed out free bottles of water and orange juice at "hydration stations" at the front of each store between 3am and 7am on both Friday and Saturday nights.
Martin Smith, Tesco's London convenience director, said: "At Tesco we're always looking for new ways to serve London's customers whenever it is most convenient to them."
McDonald's took to Twitter to remind followers that it already ran 24 hour restaurants close to several stations on the two lines.
We've mapped out some of our 24 hour restaurants for the #NightTube opening, so you don't have to! pic.twitter.com/BCD0DrJjKb
— McDonald's UK (@McDonaldsUK)
August 19, 2016
The signs are that the Night Tube is popular both with the city's pubs and their staff.
#London pubs welcome #NightTube despite staff fears: https://t.co/kPoCs0sinH pic.twitter.com/wC7NrNjSw5

— Morning Advertiser (@morningad) August 22, 2016
71% of hospitality staff think #nighttube will increase job flexibility: https://t.co/jpa4ujM2Po pic.twitter.com/7Udp5ocbZV

— LOLA Staffing (@lolastaffing) August 22, 2016
While the cultural sector will also hope to benefit from revellers staying out later.
First #NightTube tonight! We're open until 10pm on Fridays, so you can always stay late here at the end of the week! pic.twitter.com/LTS4B0CRKG
— V&A (@V_and_A)
August 19, 2016
If there is one group of people that could stand to lose out from the Night Tube, it is Uber drivers, who get a high proportion of their fares during the hours the Tube was previously closed.
But Uber chose to look at the positives by reminding its mailing list on Friday that the service was available to get them home from the nearest station.