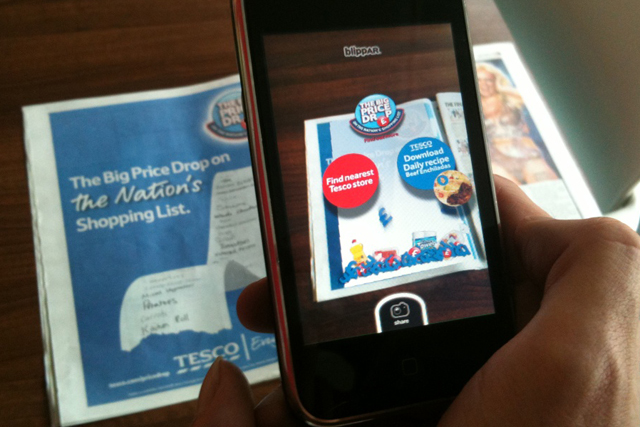 Tesco outdoor and press ads, including a cover wrap on today's Metro, encourage consumers to "Get the lowdown on Big Price Drop" by going to Tesco.com/pricedrop and by downloading a mobile app.
The app, created by Blippar, allows customers to access store location information based on their current location, and download recipe ideas by hovering their phone over the ad.
Tesco is running a two-week TV campaign, plus out-of home advertising, digital activity, a national press takeover and week-long radio activity.
Image-recognition technology appears to be being speedily adopted by brands as a way to move from static messages onto consumers' mobile phones, with Tesco only the latest, but one of the most mainstream adopters.
Blippar is among a range of providers, including Google and Aurasma.
Last week, French Connection, L'Oréal's Garnier, Sony Music and Samsung had become the first UK brands to trial 'Goggle' technology for outdoor campaigns, in a partnership with CBS Outdoor. Aurasma has been used by a range of brands including Debenhams, Magners and Wetherspoons.
The Red Brick Road is the creative agency behind the campaign, while Initiative and outdoor specialist IPM are handling media planning and buying.
Tesco is slashing prices on 3,000 products as part of its Big Price Drop, but, at the same time, is ending its double Clubcard points promotion.
Sainsbury's slammed the new strategy of its rival as "classic smoke and mirrors from Tesco, giving with one hand and taking with the other".
Tesco's removal of its double Clubcard points will save it £350m, according to Sainsbury's.
In response to the Tesco price drop, Asda is running a print campaign promoting its promise that it will remain 10% cheaper than its rivals.
Saatchi & Saatchi created the Asda campaign that reads: "Only one supermarket is … always 10% cheaper".