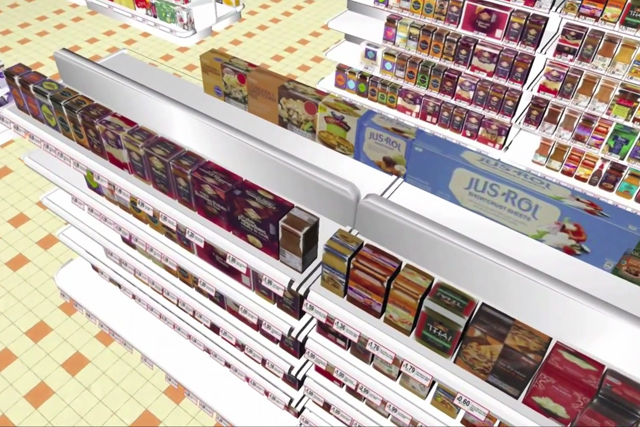 The supermarket has revealed that it is moving nearer to launching a 'fly-through' of a 3D-rendered Tesco store that will integrate the online experience with the classic in-store shopping trip.
Tesco.com head of research and development Nick Lansley said that fulfilling the 'dream' of a virtual store had, until now, been 'stymied by lack of computing power in a web browser and slow broadband speeds'.
However, greater bandwidth, the rapid take-up of HTML5 and new technology, including 3D TVs, mean the retailer's aim of 'flying through a virtual Tesco store and grabbing 3D products is getting closer' to becoming a reality, Lansley told Marketing.
The ability to shop for 3D items in a virtual store has been made possible by the growing availability of motion-sensor technology, on devices such as the Xbox, via Kinect, and Samsung Smart TVs.
Tesco is among several major retailers, including Amazon and eBay, to have publicly available APIs – an open-architecture approach that enables technology communities to create their own applications.
One software company, Keytree, has now built a virtual Tesco store (see below) that can be navigated with an Xbox Kinect, allowing people, in theory, to shop in a store through their TV.
Although Keytree mobility and innovation lead Will Powell said the company had not created the tech-nology for commercial use by Tesco, he claimed that 3D shopping from home was now possible.
'We used an Xbox Kinect to provide an interactive layer on top to try to make your TV into the store,' he said. 'I think it's going to be more and more possible using some of this latest technology and making use of all this kit around you; it's what consumers now expect.'
Lansley added that Tesco was seeking to explore ways in which it can reach customers 'wherever they are' through digital, citing its recent trial of an augmented-reality 'store' in Gatwick Airport as an example.
Lansley is expected to reveal further details of the retailer's latest developments in the tech space when he speaks at the IAB Engage 2012: Digital by Design conference, at London's Barbican Centre, on 25 October.