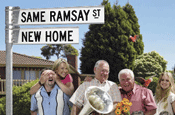 The competition ad appeared in the Tesco magazine, offering the winner four return flights, visas, two weeks in a three star hotel, and a chance to visit the soap opera's set.
But an anonymous complainant told the ASA that she did not believe the prize was worth that amount.
But the ASA sided with Tesco, saying: "Although we understood that it was possible to achieve lower travel and accommodation rates through special offers or internet bookings, we were satisfied with the evidence provided by Tesco that the value of the prize, at the time the ad appeared, was £10,000."
The supermarket giant had submitted documentation, showing the total value was £10,000.
It also pointed out that it had not included the Neighbours studio tour in the total amount.
But it accepted that the cost may have depreciated slightly over the year between the competition and the winner's trip.
In a ruling delivered this morning, the ASA decided to take no further action.