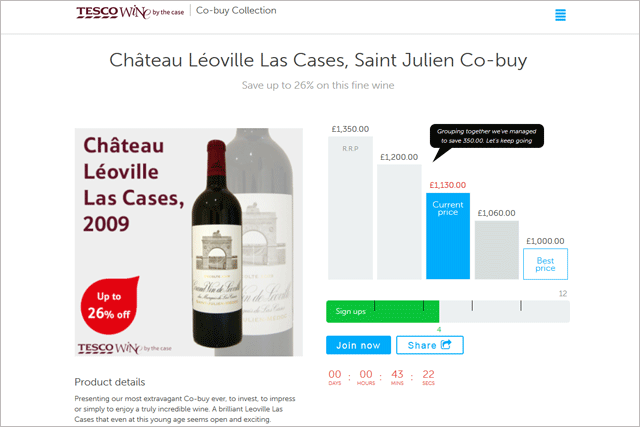 The social push is offering wine lovers up to 26% off a £1,350 case of Château Léoville Las Cases 2009 if they share details of deals with other drinkers on social media.
The wine-focused campaign is the latest in a series of Tesco co-buying campaigns through Buyapowa.
Tesco said an average 50% of its co-buy customers are referred by friends and family on social media, which it said was a testament to the power of social selling. Earlier this year, the supermarket was voted as the best retailer for social commerce.
Nick Juby, the supermarket's commercial manager for wine by the case, said: "At Tesco, we want to push boundaries and go beyond using social just as a means to market to our fans and followers, but actually use it to power social retail."
Gideon Lask, Buyapowa's founder and chief executive, said: "Tesco is using the tools, language and behaviour of social media to reinvent the way customers interact with and, ultimately, how they shop with Tesco.
"Its social co-buying channel gives customers a much greater say in the way deals are generated, delivered and enjoyed. Above all, it gets social audiences shopping."
Read next