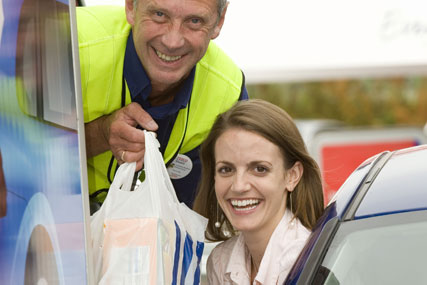 Customers will now be able to place orders online and pick up their order in stores at an allotted time.
The trial launches at Tesco's Baldock Extra store in Hertfordshire today. If it is successful it may be rolled out to additional areas.
Customers order their shopping as usual on the Tesco.com website, choosing the "Click and Collect" option and booking a two-hour collection slot. Customers will be able to collect at anytime inside this two-hour window.
Laura Wade-Gery, chief executive of Tesco dotcom and Tesco Direct, said: "This will be especially popular with busy mums who have the school run and children's activities to manage.

"It also offers a solution to parents who want to avoid the challenge of shopping in a busy store with children in tow but can't afford the time to stay in for the shop to arrive to their door.

"We also expect it to help young professionals who want the convenience of a pre-picked and packed shop but who cannot commit to waiting at home for delivery.
"They can collect their shop on their way home from work or at any other time that suits them during our extensive collection hours.
"Customers drive up to a reserved area in the car park, which will be signposted, and pull into a covered space to show a member of staff their shopping reference details. Staff come to the customer's car window so there is no need to get out, and the shopping is then packed into the boot."
For the trial, shopping will be held in a Tesco.com delivery van awaiting collections and if this is successful, Tesco will explore how stores could be adapted for the future to make drive-through shopping a permanent service.

Nadine Coyle will be the latest artist to sign an exclusive deal with the supermarket to exclusively distribute her album through the stores – a move many see as an increasing trend to move distribution away from normal channels.

Other artists who have signed exclusivity deals with the supermarket include Simply Red, who released an album called 'Love Songs' through the retailer.
Tesco has also already signed a similar deal with dance act Faithless.