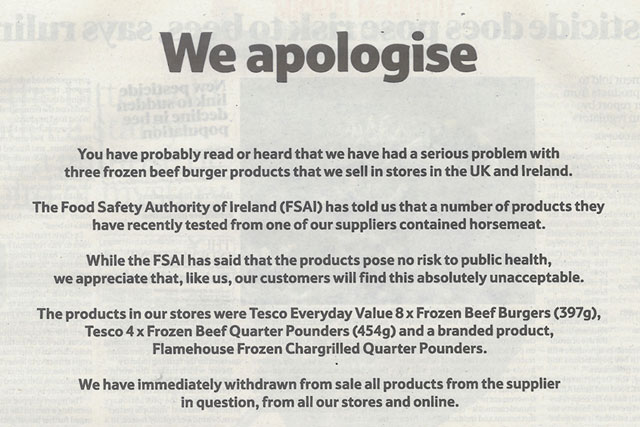 Tesco has run the ad in The Times, Daily Telegraph, Guardian, Independent, Sun, Mirror, Daily Express and Daily Mail apologising for the "serious problem" and guaranteeing a full refund.
As was revealed yesterday, random testing by the Food Safety Authority of Ireland (FSAI) found that three Tesco products contained horsemeat and one of which, the Tesco value burger, was 29% horsemeat.
In the ad today Tesco said: "While the FSAI has said that the products pose no risk to public heath, we appreciate that, like us, our customers will find this absolutely unacceptable."
Tesco has withdrawn all products from the supplier in question and the ad continued: "We will work harder than ever with all our suppliers to make sure this never happens again."
Meanwhile, Morrisons, which has not been implicated in the scandal, used its newspaper ad to say: "100% British. 100% of the time. All Morrisons burgers are made with 100% British beef."
Morrisons currently has a half price offer on steak burgers, pork and lamb and the ad said: "All the fresh meat we prepare in-store is sourced from British farms that we know and trust. So you know exactly what you're getting at Morrisons."
Tesco's media agency is Initiative and its creative agency is Wieden & Kennedy, while Morrisons' media is handled by MEC and its agency is DLKW Lowe.