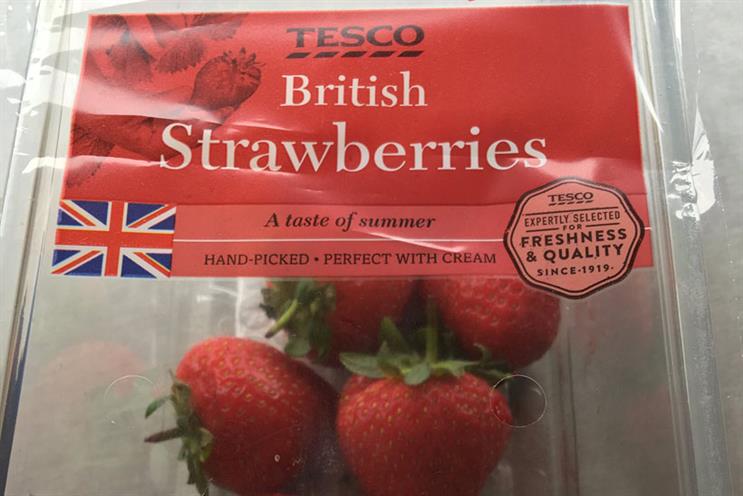 The supermarket said it made the move after receiving complaints from customers in England. As a result, it has changed the products across all its stores, including in Scotland.
@BRWombat Hi Eileen, over the past year, we received several customer complaints regarding Scottish flags on strawberries in England. 1/5

— Tesco (@Tesco) August 22, 2016
@BRWombat English customers criticised us why we do not apply the English flag on English berries and why we do for Scottish berries. 2/5

— Tesco (@Tesco) August 22, 2016
@BRWombat When the category went through corporate re-design, it was decided to have British packaging only to avoid further criticism. 3/5
— Tesco (@Tesco)
August 22, 2016
@BRWombat Product origin is printed on each punnet ie customers in Scotland will be allocated with Scottish fruit and this is visible. 4/5

— Tesco (@Tesco) August 22, 2016
But as one Twitter user pointed out, Teso does in fact use the English flag on certain products.
@Tesco @BRWombat Are you consistant with your labelling or just anti-Scottish? @cath426 @jacquieb51 pic.twitter.com/yKUh10r7lH

— ann (@liz6153) August 23, 2016
Responses to the move ranged from outrage to bemusement.
@Tesco Shove your British strawberries up your fucking arses. Anything produced in Scotland is Scottish not British.

— Cybernat2015 (@Cybernat2015) August 23, 2016
@Tesco can't believe you indulge such xenophobia. Won't be shopping @Tesco again! https://t.co/PwvVqxGltz
— TSC Nic (@TSCNicolaShah)
August 24, 2016
Tesco are now calling Scottish strawberries British strawberries. The strawberries must have done really well Wimbledon this year.

— Phil Chapman (@IAmPhilChapman) August 23, 2016
Night Twitter. Everyday you bring me untold riches. Today it was nationalist objections to the union flag on Tesco's Scottish strawberries.

— Roger White (@rogerlwhite) August 22, 2016
Even among the target demographic, the change was not universally well received.
@Tesco If you remove the Scottish flag how will I identify Scottish produce so as not to buy it, as I do now? https://t.co/ywpUrDMEVA

— +++Stephen Gash+++ (@Stephen_Gash) August 23, 2016
And it appeared the switch could create an opportunity for Tesco's competitors.
Hey peeps of Scotland, @sainsburys still sells Scottish strawberries. Ciao @Tesco. pic.twitter.com/LWrOnQfakF

— Melissa Iacone (@meljomur) August 23, 2016