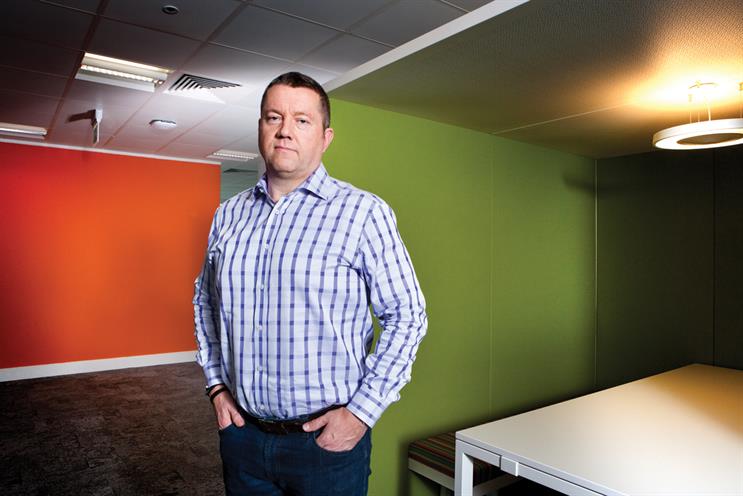 Simon Hay, the chief executive of Tesco's data unit, Dunnhumby, rolls up his sleeve and points to the Jawbone band on his wrist. The gadget tells Hay how much activity he does each day and measures how well he is sleeping.
It turns out the head of Tesco's Clubcard data unit is both a fitness freak and a wine connoisseur. He ponders the possibilities of using data from wearable technology to recommend products to Tesco customers.

This is the sort of innovation Dunnhumby will be able to consider after its recent acquisition of the programmatic advertising and retargeting shop Sociomantic.

Hay says: "What we want to do is to take the relevancy, targeting and personalisation of the mailings we put out with Clubcard and to have that same relevancy for customers in the digital space."
He suggests data scientists from the two companies could work together to create a service whereby people load fitness data from a wearable app on to an online dashboard. They could then be offered ideas for recipes and products by Tesco and other retailers to help them achieve their fitness goals.
The Sociomantic purchase, for a sum reported to exceed $100 million, gives Dunnhumby access to expertise on real-time communications and personalising offers on mobile and online. Hay sees Dunnhumby using this to create new ways of connecting with customers digitally and giving them personalised discounts and offers in real time.
He explains: "Coca-Cola could be making a choice to buy a banner ad on itv.com or buying a communication to a Diet Coke customer who has just entered a Tesco store. They are both media and communication opportunities and they should both be evaluated and priced, and bought and sold, in the way that's most relevant to Coca-Cola's objectives and the customer's objectives and which gives the best outcome."
Dunnhumby, now fully owned by Tesco, has run Clubcard – something the supermarket credits as a driver of its success – since its launch in 1995. Sceptics argue Clubcard's benefits are overhyped, but Hay is clear: "We were in personalisation before people realised what personalisation was."
Sociomantic could allow Tesco to target someone with a tailored offer as they walk past a store. For instance, assuming they had given prior permission, a customer within 50 metres of a Tesco shop on a cold, rainy lunchtime could be sent a mobile voucher for soup with bread, based on data about the weather and the customer's previous food purchases.
In a world of big data, granular digital advertising and addressable TV, Dunnhumby is looking to move its loyalty and data offering to the next level. Tesco has recently rolled out Blinkbox, Clubcard TV and the Hudl tablet, and is looking to become a digital retailer.
At present, "people are more likely to climb Mount Everest than click on a digital ad", Hay argues: "If Dunnhumby can find ways of making digital advertising relevant, timely and useful, it can help transform the digital landscape."
He thinks coupons and money-off vouchers will be vital in the mobile and digital world and will vie with other forms of real-time advertising for the marketer's budget. This will give digital marketing the relevance it needs.
And Hay believes Dunnhumby can offer brands the analytics to help them make better media planning and buying decisions. The unit works closely with Tesco's media agency, Initiative.
"In media, there are too many sample sizes and small volumes of data used to make big investment decisions," Hay says. "One of the things we and Sociomantic can bring is more data to allow us to plan better and measure better all marketing and all media."
Hay is a Dunnhumby man through and through. The company was set up by the husband-and-wife team Clive Humby and Edwina Dunn with the aim of applying Humby's mathematical skills to improving customers' experience of shopping.
The couple had interviewed Hay for his first job at the location planning shop CACI and he was recruited as Dunn-humby's first employee in 1991. Hay set up Dunnhumby's US operation in 2002 and was promoted to chief executive when Humby and Dunn sold the company to Tesco and resigned in 2010.
Since then, he says, Dunnhumby's revenues have grown by 40 per cent and it is now a $1 billion-turnover business. It has made three acquisitions before Sociomantic, including the word-of-mouth agency BzzAgent, and employs 2,700 people in 33 countries. About two-fifths of its business comes from selling customer profiles and anonymised data to consumer-goods companies.
Dunnhumby will now aim to utilise Sociomantic's real-time digital marketing skills to improve the customer experience. "It's going to keep us busy," Hay admits.