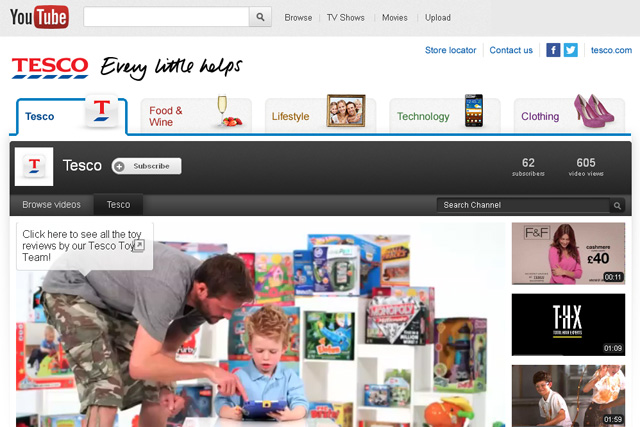 The supermarket has combined nine of its former YouTube channels to create five consistent branded channels, which include "food & wine", "lifestyle", "technology", "clothing" and an over-arching Tesco channel curating content from all four.
Digital agency Zone has created the channel and claims YouTube-owner Google has cited the new identity as a "best in class" example of how brands can leverage YouTube.
The aim of the new site is to provide a more unified customer experience and allow the cross-promotion of content more effectively.
Tom Daniell, head of digital marketing at Tesco, said Zone was hired in June to help Tesco to "understand how to manage our video content with consistency and efficiency so it best serves our customers".
Prior to the launch of the new YouTube channel the Tesco.com TV channel had only added around 30 videos since launching in 2007, while channels such as Tesco Greener Living and Tesco Mobile Network were last updated in 2010.
Only the supermarket's recipe ideas channel, Tesco Real Food, had been consistently updated, with nearly 250 videos added since July 2010, while the Tesco Magazine channel was updated more than 100 times in the same period.
It is understood that Tesco will also overhaul its other social media platforms.
Follow @mattchapmanuk