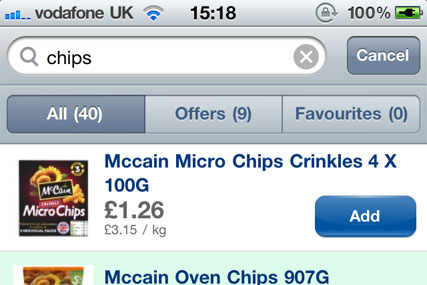 The grocery app is an addition to existing Tesco apps, including Clubcard and the Winefinder, which together have amassed more than one million downloads.

The app enables customers to shop on the go for groceries via their iPhones. Once downloaded, those customers who have registered with Tesco.com will be able to access their home store's product range and their favourite items, which are recognised by previous online purchases.

Users can log in to their grocery account and add forgotten items to their basket, or start a new order, checking out on the phone or later online.

The app is available to download from the Apple iTunes Store. Tesco has been working with mobile specialists Ribot, who designed and developed the new app.

Laura Wade-Gery, CEO for tesco.com said: "We're always looking for ways to make life easier for customers. The iPhone app creates a fantastic new way to shop with tesco.com whenever you want, whether you're adding last-minute essentials or starting a new order."