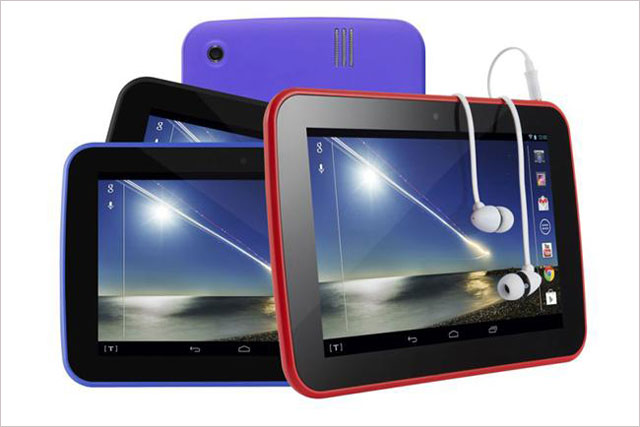 Tesco chief executive Philip Clarke told the BBC the device, which is expected to run off Google's Android operating system, would be pre-installed with Tesco services.
The supermarket chain has already launched an own-brand tablet device called Hudl that has sold half a million units.
Sales of the Hudl appear to have slowed dramatically after Tesco initially sold 400,000 units in the first three months after launching the device in September.
Clarke revealed a refreshed version of the tablet, the Hudl 2, will be released this September as the company seeks to take advantage of Christmas trading, which is the key period for tablet sales.
The upcoming smartphone will be comparable with higher end of the market with Clarke claiming its specifications will be on a par with the Samsung Galaxy S5.
In contrast, the Hudl was positioned at the lower end of the market and costs just £119.
The pre-installed Tesco services on the smartphone are likely to replicate the range of services that are hosted on the Hudl, which are available through a "dedicated launcher button".
The digital services on the Hudl include Blinkbox movies, TV and music, Clubcard TV, banking and online groceries, clothing and homeware.
Tesco's imminent smartphone is being prepared for launch as Clarke comes under increasing media scrutiny as the supermarket chain continues to struggle to turn around the business.
Last month it was revealed that Tesco's annual trading profits dropped 6% to £3.3bn, as like-for-like sales dropped by 1.3% in the UK.
In the results statement, Clarke discussed how the supermarket was trialling a digital version of the Clubcard and focusing on a social network in an effort to turn around the company's performance.
The announcement of the Tesco own-brand smartphone has already been met with scepticism by retail analysts, who believe such initiatives are proving a distraction to the business.
Last RT - new smartphone from Tesco; Hudl successful but more focus off the main job it seems. Stick to the knitting.

— Steve Dresser (@dresserman) May 6, 2014