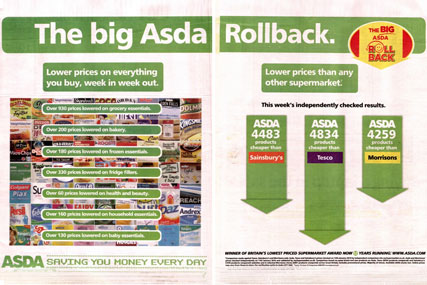 Last week's victory for Asda in the tit-for-tat battle between the UK's two largest supermarket chains centred on a dispute over product pricing claims.
Asda's complaint about the reliability of a Tesco TV ad, which claimed its products were cheaper than Asda's, was upheld by the Advertising Standards Authority.
However, this week Tesco got its own back after complaining about Asda's press ads, created in-house, which were published in January this year.
The ads formed part of a double-page spread headed "The big Asda Rollback".
On one side of the page the ad stated "lower prices on everything you buy, week in week out" and then listed a number of its purported cheaper products.
On the other side of the page a heading claimed "lower prices than any other supermarket".
The text underneath stated a number of further claims referencing its products as being cheaper than Tesco and Morrisons.
Tesco challenged whether the claim "lower prices on everything you buy, week in week out" was misleading as it argued it was ambiguous.
It claimed that it was unclear whether it was gauging its prices against previous Asda prices or its competitors in the market.
In its response, Asda said its claim of "lower prices" was clarified by a "+" symbol to footnote its text that stated "comparison made against Tesco, Sainsbury's and Morrisons only".
In its ruling, the ASA said Asda's ad was ambiguous and the wording of the ad confused customers as to whether it was cheaper than any other supermarkets, or if it related to individual products.
It decided to ban Asda from using the ad in the future.