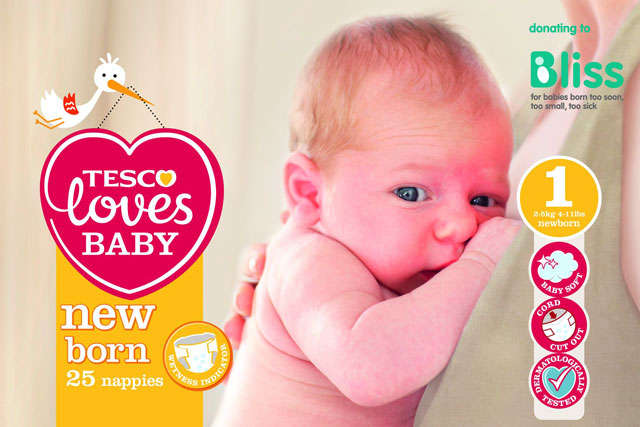 The Tesco Loves Baby brand includes products for children up to three-years-old, and features "essentials" including nappies, wipes, toiletries and feeding and weaning accessories. Tesco has updated its pre-existing own-brand baby products as part of the launch.
Tesco is taking aim at nappy brands, including Procter & Gamble-owned Pampers, by updating its Tesco Newborn Nappies product, which includes a new "wetness indicator" to ensure parents know when the baby needs changing.
The launch comes less than a week after Tesco boss Philip Clarke announced the supermarket had been boosted by strong growth of its own brands, "at the expense of manufacturers' brands".
Tesco controversially removed New Covent Garden Soups from its shelves in October, some 12 months after launching its own chilled soup range.
Lorna Dickinson, category buying manager for Tesco Baby, said: "To help ensure mums and dads have products that meet their baby's or toddler's daily needs, we've spoken to parents across the country and developed an innovative range for every age and stage at great-value prices."
Tesco is supporting the Bliss Family Support helpline, which provides care and support for premature and sick babies, in order to coincide with the launch of its own-brand baby range
The supermarket's Tesco Baby Club, which offers support for parents with features on parenthood, recipes and money-saving offers, has been rebranded as the Tesco Loves Baby Club to coincide with the new baby brand range.
Separately, Mothercare has partnered with the company behind hit Channel 4 programme 'One Born Every Minute', to launch its first television partnership. The off-air deal with Shine 360° will involve the retailer launching an in-store campaign on 17 January, featuring window and point-of-sale material.
Activity will include health professionals and midwives taking part in weekly Twitter sessions in order to answer questions on parenting.
The sessions will also be extended to in-store Baby & Me events and a Facebook competition that will ask fans to upload pictures relating to weekly themes.