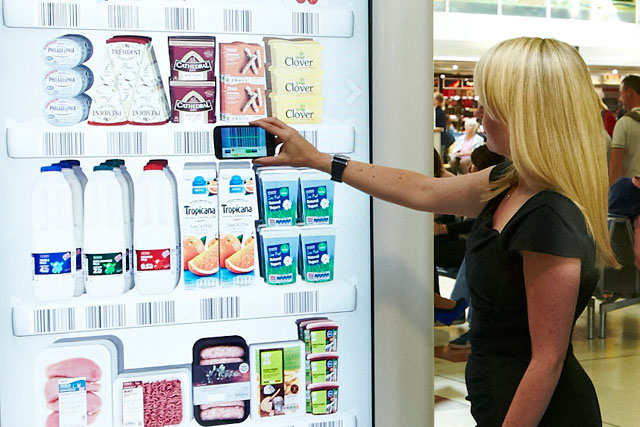 The two-week trial follows on from Tesco's South Korean business launching a "virtual store" allowing customers to buy products on their mobiles from billboards at subways and bus stops.
Passengers at Gatwick's North Terminal can scan up to 80 barcodes for products pictured on the virtual fridges and have them delivered to their homes up to three weeks later.
Ken Towle, director for internet retailing at Tesco, said that customers will be able to contact Tesco if their journey is delayed to change delivery times and Tesco "will find a way of sorting it out".
Towle dismissed the notion the Gatwick activity, which runs until 19 August, is a PR stunt and insists the initiative was launched to serve customer needs.
A further roll-out will depend on the success of the trial, but no targets have been publicised for the success of the initiative because of its pioneering nature.
If successful, Tesco is likely to extend the Gatwick trial into commuting hotspots because it has found traffic to its grocery site has two peaks in the day, which occur during the way to and away from work.
Towle told Marketing that the supermarket giant is not yet in talks with Transport for London about emulating its South Korean business by introducing the virtual stores to underground platforms, but added "that's the kind of place we could imagine it to emerge".
Tesco claims its virtual stores in South Korea have generated 25 milllion online posts, with Towle adding that what began as trial but is still being maintained beyond the trial phase and has now reached 55,000 customers.
Passengers using the virtual fridges have to download the Tesco app onto their smartphones and register on the Tesco.com grocery site to process their orders.
Towle said: "This isn't about moving customers from one channel to another – it's about incremental new business."

Tesco has installed ten of the virtual fridges at Gatwick, which will be supported by three staff who will help with the scanning and ordering process.
The decision to extend the trial will be based on feedback from the staff and data based on the amount of people who have touched and interacted with the screens.
Tesco's outgoing ad agency The Red Brick Road is claiming credit for the idea while mobile agency Ribot, media agency Initiative and outdoor specialist Rapport have helped deliver the project.
The virtual fridges are adapted advertising screens sold by outdoor media owner Eye.

Follow @mattchapmanuk