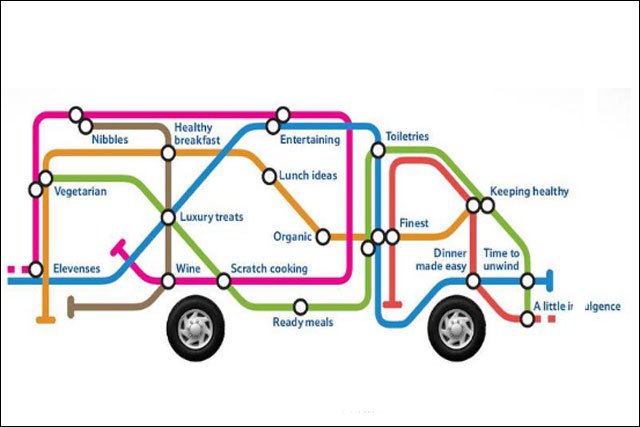 The commuter zone is designed to target consumers who want to avoid the hassle of carrying heavy shopping at the end of a working day.
The section will offer visitors access to their 'favourites' section on Tesco.com and allow easy access to the shopping basket and multi-buy savings.
Customers will be able to choose a delivery slot that suits their weekly routine with no extra delivery cost for those who are signed up to the retailer's Delivery Saver service.
The zone is available nationwide, but initial marketing activity pushing the service is limited to London.
Marketing activity will include poster activity on the Underground featuring an image of the Tesco.com van, designed around the Tube map and showing products available via the Tesco commuter zone.
News of the marketing push in London comes after Virgin Media announced it would extend free Wi-Fi on the Tube until the end of the year, after recording more than a million browsing sessions in a single day.
A Tesco spokesperson declined to comment on when marketing for the zone would be taken nationwide.
Ken Towle, director of internet retailing at Tesco, said: "As the nights close in and it gets colder and darker, customers needn't worry about stopping to shop on their way home – Tesco can deliver their order straight to their door, giving them more time to enjoy their evenings and weekends."