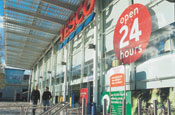 The UK's biggest supermarket chain has signalled its intention to take the 'moral high-ground', stating that it will not attempt to bid on search terms relating to its competitors.
Tesco, which spends £2.2m a year on online ads, is hoping other UK brand owners will follow suit, preventing the cost of paid-search ads rocketing.
From 5 May, consumers using Google to hunt for specific brands will, for the first time, receive sponsored listings for rivals. The latest rules are expected to force the UK's biggest online advertisers into conflict.
Earlier this month, a range of high-profile brands including Diageo, Mercedes-Benz and O2 told Marketing that they plan to review their paid-search strategy in light of the changes to Google's policy.
The changes are likely to result in a rise in the price of branded paid-search listings. Advertisers have traditionally been able to buy trademarked keywords at a low cost, enabling them to generate significant profits from their sponsored search activity.